A person is always known for the behavior he keeps. The surroundings, family, colleagues all are directly affected by one's behavior. Keeping patience also indirectly affects the behavior. If some issue arises and one deals with it patiently without using harsh language, it means that the individual is having a good behavior along with a strong personality.
Likewise, a good and positive behavior at the workplace is the need of the hour. A good behavior constitutes a better environment if participation from both ends is equal.
If the workplace is cooperating and the personnel is strongly misbehaving purposely, to door to welcome troubles will stay open always and vice versa. Due to misbehavior of any kind, the personnel goes for a resignation.
The resignation letter due to misbehavior is a document written by an employee when s/he faces a misbehavior from a colleague or boss for unfair reasons. Writing the resignation letter shows a frustrating experience for the employee which results in quitting the job.
This resignation can be put in the following scenarios.
When colleagues behave rudely with others for the sake of ruining the work environment.
When the supervisor behaves badly with the team to undervalue the competency and creativity.
When bosses misbehave with their personnel just due to unethical and discourteous nature instead of boosting the morale.
When misbehavior occurs due to personal grudges or for the sake of personal gains.
This resignation must be written with a grievance. Additionally, a reminder could also be made to show the weakness of the organizational structures regarding norms and behavior. The letter should contain the related names, signature, addresses, pertinent position or designation. The issue of misbehavior must be highlighted with the necessary details. The letter should be formal.
A template is attached.
Sample Template
This letter serves as my resignation from the post [DETAILS] effective immediately.
It's been five years that I have been working with the [COMPANY] and you never had to complain about my performance and professional conduct.
My new supervisor is my ex-colleague who has been promoted to this position some months ago. I was very happy that we were going to work together in a very healthy environment, but things didn't work accordingly.
He deals me in a very rough way for nothing. We never had differences as colleagues, but this sudden shift is killing me inside. In our last meeting held on [INSERT DATE & DAY], he reprimanded me in front of all the staff for merely considering that I was talking while he was addressing to us.
He scolded me in such a bad way that left me completely vacant. I, therefore, decided to leave the job instantaneously to avoid further offense which has become a routine.
I apologize for any inconvenience caused due to my sudden resignation. Furthermore, I will email you the ongoing project I am dealing with.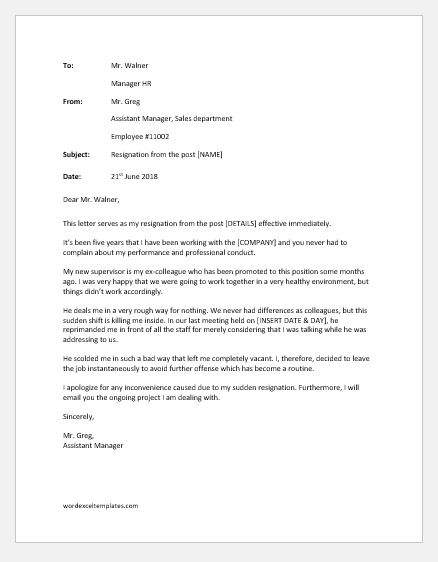 The letter template
Format: MS Word [.docx]
Options: Download