It can be very hard for you to write the review on the performance of your employee. When it comes to managing the team, the appraisal of an employee is one of the key elements. It plays a very important role in reshaping the growth and development of the entire team and progress of the whole organization.
Receiving the review of the performance is very important for some employees. While for others it is considered a tough job. Reading the reviews on the performance of the employees makes it easy to understand the requirement of the job and his work quality.
How to prepare employee performance review write-up?
The review of the performance of the employees should always be started off with the appreciation. It is always recommended to deliberately praise the employee while recalling his accomplishment throughout the year.
Even the employees with poor performance should have achieved something in their career that can be acknowledged. The employee should not be given the feeling that their specific efforts have gone unnoticed. For this, you should focus up every contribution made by the employee.
In the review write up, it is important to identify the goals that have been achieved. It plays a vital role in encouragement of the employee. Although it is not possible for you to individually notice every goal or effort, some noticeable accomplishments can be focused on so that you can talk about them when you get a chance to have face to face conversation with your employee.
You have identified and written all the achievements and their contributions of the employee in the performance review write up, it is the right time for you to move towards those aspects of the employee performance that you are not satisfied with. Identify all those goals and objectives that have not yet been met. Make sure that you are fair while writing your review on unmet goals.
After completing the review write up, you should write all those areas where the employee is required to improve himself.
If you have prepared the format for the write-up for all the employees working in your organization it must be good. However, if you feel difficult and want to take help from the internet then you are at the right place.
Following here you can download the performance review write-up template that surely will solve your problem.
It highlights:
Employee information.
Analysis, Rating, and Evaluation of the performance. For the evaluation different factors such as job knowledge, work quality, attendance and communication skills have already been added.
The editable feature that helps you modify any part of the write-up.
Hoe this template will help you in your business.
Preview and Details of Template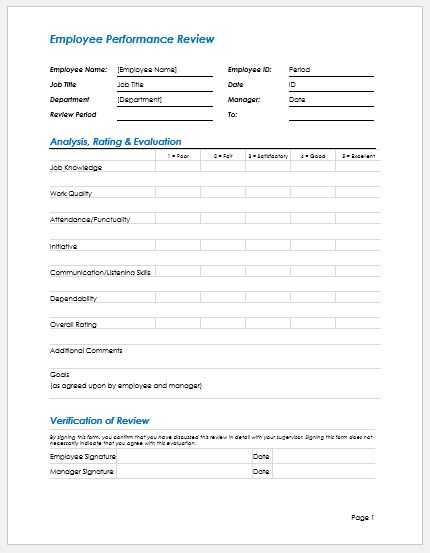 Performance Review Write-up Template
File: Word (.docx) 2007+ and iPad 
Size 35 Kb   | Download