Injury report form at the workplace can be very useful in many situations. People may forget the details about any event. However, preparing the injury report never let anyone forget the facts. There are some situations when the accidents are not accidental.
Many injuries are caused due to the negligence of somebody. It is not important to know who was responsible for that accident but having all the facts are written down is important.
The injury report should be prepared without bothering the person who got injuries. The person who is injured may not be able to remember what actually happened at that time.
The best thing to prepare the injury report form is to collect the information from an employee. Make sure that you collect as much information as possible by asking the right questions at right time.
When to use the employee injury report form?
Employee injury report form can be used when you are at your workplace and get injured.
You can also be used to when somebody gets an injury because of an accident.
What is the purpose of preparing injury report form?
The basic objective of preparing this report is to understand the circumstances that caused that accident to occur and the injury of the employee.
This report can also be served as a very efficient document for collecting the information about the particular incident.
All the injuries caused to the employee can be documented in the form of the injury report.
The report is also useful when you want to introduce some security and safety measures in order to avoid such incidents again in future.
Sometimes a company may be in need to reimburse the medical expenses of the employee. Moreover, before a leave is granted to the employee, the injury report is required.
The insurance companies and regulatory bodies of an organization can get a lot of help from these injury reports.
An injury report is an important document which is required to be completed by the employee before he is compensated. Flexible and reliable template for his injury report can be downloaded from this website.
Preview and Details of Template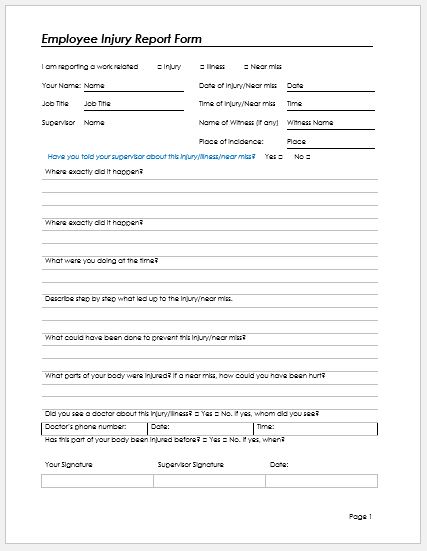 Employee Injury Report Form Template
File: Word (.docx) 2007+ and iPad 
Size 45 Kb   | Download
[Personal Use Only]