Whenever an organization initiates a project, it needs to allocate a budget of a specific size to that project. The budget generally includes the total amount that will be needed to back the project from start to end. When the budget is considered, it means that a company has to determine if the project is worthwhile or not. A budget needed to complete a project is generally requested by individuals who want to know how much support a particular need is. If the budget allocated for a project is needed, the budget request will be made to the concerned authorities.
What is a budget request form?
It is a tool that is used officially to request provide funds that a company promised to pay to those who are working on a particular project.
There is no restriction on who can use this form and who cannot use it. However, organizations that have initiated a project which is relatively large usually facilitate people to submit a request form so that they can ask for the funds allocated for that project. In some cases, the company has already paid the total amount to the project manager but since there are various irregular and unexpected costs, a project manager can apply for some more money.
Content of the budget request form:
How useful a form can depend on the details it tries to collect from the person who fills it. If you want to create an efficient form, make sure that you include the following components:
Details of the person filling out the form:
This form includes a few such details that a company requires to know about the person who is making this request.
Details of the request:
This section of the form tells which type of request is being put forward, the date on which the request is being made and whether the request is for additional funds or those funds which were already supposed to be paid.
Information about the project:
This part of the form asks the reader to give a brief description of the project for which the budget is being requested. The user can write one or two small paragraphs to describe the entire project and its financial needs.
Justify making the request:
In the same form, the person requesting funds is asked to give some concrete reasons to make this request. The reasons should be given convincingly so that the authorities that have to issue these funds can be persuaded into issuing the money.
Breakdown of the budget:
The form also asks the user to provide a complete breakdown of the budget so that the authorities can see what a person is going to spend how much and in which area. After a complete breakdown, provide the total amount you will need that has prompted you to fill out this form.
Sample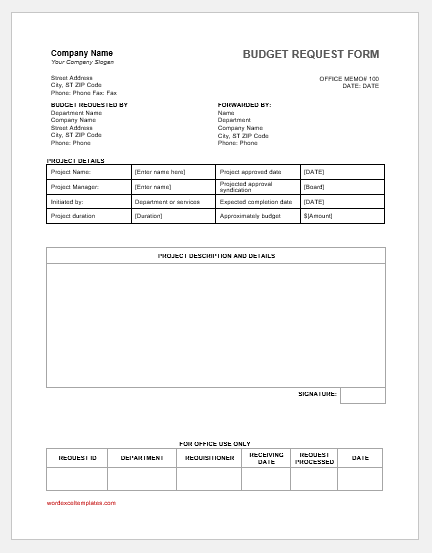 More Form Templates…