In the business world, it is very common to send and receive payments. Paying money on credit as well as on debit is also very common. Due to this, often we have to request payment. There are many situations when a payment request is made. To simplify the process of making a request and then getting it approved, you can use an amazing accounting tool which is the payment request form.
Why is it good to use a payment request form?
Although you can request money verbally and also by writing a request letter, filling out a form is preferred. Using this form enables the user to get away with the cumbersome task of writing a complete request. Some people also find it difficult to ask for payment as they don't know which choice of words will be appropriate. Therefore, using a form can be beneficial in a number of ways.
Who is eligible to use the payment request form?
This type of request form is generally used in professional settings. People who have to collect payment from someone will fill out this form if the person has allowed them to put forward their request by filling out the form. However, this form is the best tool for record keeping.
What details help in making a payment request?
The form asks the user to provide the following details:
Details of the vendor who is requesting clearance of dues
Total amount to be paid by the company
Description of products or services purchased by the company
The total cost of each product or service
Account details of the vendor where the payment is to be deposited
Terms and conditions
How can a template be used to get an easy-to-use form?
A template is a useful tool that provides a readymade form that is readily available to the user. Here are a few ways a template can be put to use:
Its design can be modified:
You might be insecure about using an online tool that is easily accessible to everyone because the provided design must have been used by many people before. Most businesses these days want to have a unique design. Therefore, people get the option to modify the design. In other words, people can change the color, placement of the logo, and name of the company to ensure that the template looks different.
The user can run it in the desirable file format:
The form can be downloaded in MS Word, PDF, and Excel file formats. It depends on how a user needs to interact with it and with which software he is more comfortable.
It can be downloaded for later use:
Some professional people such as vendors often have to make a request for payment. So, they have to use this form more often. The template provides them with the option to download it so that they can use it whenever they want and as many times as they want.
(The Template)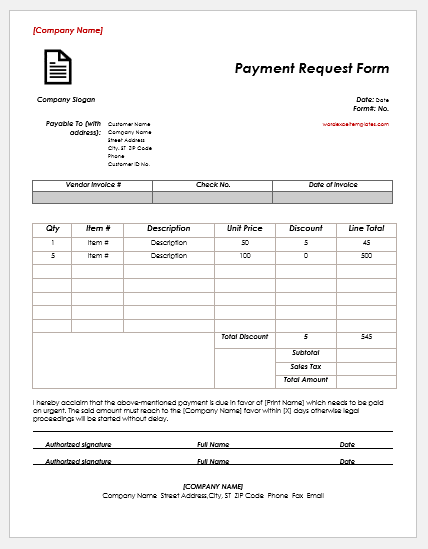 Form Templates