When a person working in a company needs to use the company's resources that he has not been given access to, he will have to make a request to the relevant stakeholders. The request-making process is often complex because it requires people to provide lots of details. Due to this, people often feel intimidated when they have to make a request.
To facilitate people to make a request easily a form of requisition is used. This form lets the recipient know that the person who has filled the form needs to have access to the resources of the company.
A stationery requisition form is a great tool because using this form it becomes very easy for a person to make a request for the stationery items he needs.
What does a stationery request form do?
People who need several types of stationery items to perform their day-to-day tasks during their working day have to fill out the requisition form. This form has various empty fields that a person fills in and lets the stakeholders know about the names of the stationery items an employee needs and the exact quantity of each stationery item. This form makes it easy for people who don't know how they can put their request on the table.
When a company receives the form, it carries out an investigation to see who has applied for the acquisition. The investigation is performed based on the information provided by the employee. Once it is confirmed that stationery items are needed by someone who works in the company, the items are issued.
How to get the stationery requisition form?
People who don't know who to access for making the request often fail to make a request properly. Therefore, they should know where to get the form from. The form is available on the official website of the company which is open to everyone. If you want to facilitate the workers in your company so that they can tell you the required stationery items, you can provide the form after editing the template.
What is the benefit of the requisition form?
Although you can enable people to have access to the stationery items without following and conventional method of making the request, it looks more professional when you choose to use the form.
The form records the details of the person who has asked for the stationery items and the total account that he has requested. So, when these requested items are returned after they have been used, the company can see if they have been returned properly. This way, the company can perform the management of the inventory and monitor the inflow and outflow of the inventory.
If you want to make the form easily accessible and fit for your company, find a suitable template and then edit it to customize it. Customization is a great feature for those who believe in using readymade forms available online.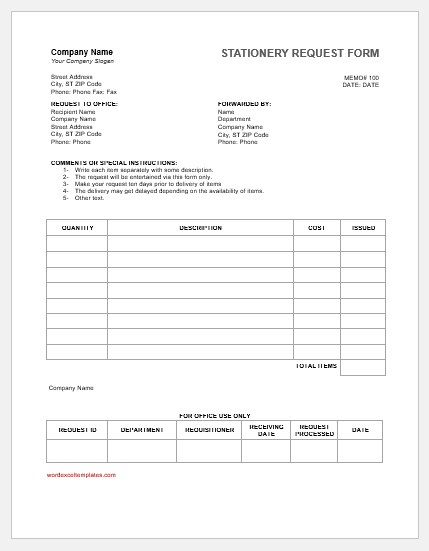 More Form Templates…