It is a unique accounting tool that allows people to make a formal request for funds they require to carry out a particular task they are committed to performing for a company. Employees often have to request funds when they run short of money and need funds. In some cases, people fill out this form to make their request reach the banking authorities who have the authority to issue mortgage funds to people who have earlier applied for it.
What is the most appropriate way of using the money requisition form?
When you have to request acquiring money by filling out the form, make sure that you know in advance when you are going to need this money. Make sure that you apply at least 10 days before the day you need these funds. There might be many requests in the pipeline that a company has to entertain. So, it might take time for you to get the approval.
How to use the form?
You need to know how you can fill out this form effectively. If you don't fill out the form in the right way, it will not be possible for the authorities to fulfill your request. Follow the tips given below for making the best use of the funds request form:
Fill in all the empty fields:
Using the requisition form is very easy because it does not require the user to stress out about what to put in the request or what not to add. All you need to do is provide all the details asked by the form.
Attach the necessary documents:
Some money requisition forms also require the user to provide various documents that can act as evidence of their authenticity. So, be sure that you don't forget to attach those documents with the form.
Mention the purpose:
If you are working in the company and you require funds to fulfill particular responsibilities, you will be asked why you need funds. The form will also ask you to mention the total amount you need. In this situation, it is important to ensure that you mention the purpose for which the company is committed to giving you funds.
Affix your signatures:
At the end of the form, put your signatures before you submit the form. These signatures will be verified by the company to ensure that a legitimate request has been made.
How to get the requisition form without any stress?
If you want to facilitate your workers by providing them with a form to make a formal request to the company through a seamless process, you can get a form and attach it to the website of your company. Some people stress over creating the form which is best for collecting information from people who require funds. However, using the template will enable them to not feel worried and get the form they want. The template is easily available on various platforms. 
(Sample)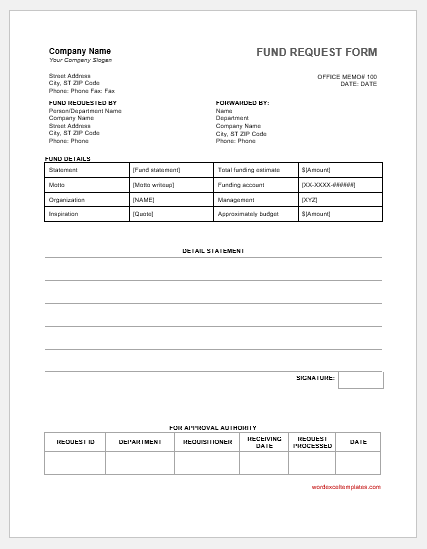 More Form Templates…