The first thing that comes to our mind when we think of December is the announcement of the New Year and Christmas holiday coming directly from the office of the boss. All of us feel excited and overwhelmed since this is the long-awaited time of the year. We want to spend this lovely time with our friends and family members.
Every organization makes an announcement whenever the Christmas event approaches nearby. The purpose of this announcement is to let the people know when they are going to get a break from work as they anxiously wait for this announcement to happen. This announcement also lets everyone know when they are expected to return to work. Since one announcement is shared with everyone, people stay on the same page regarding holidays and the resumption of work-related activities
If you are given the responsibility to draft a professional document
If you are someone who has been given the responsibility to write the announcement, you should know how you can do it effectively. Here are some important points that you must keep in mind:
Send warm wishes:
Your announcement should send wishes to those who wait for the Christmas holidays and announcement. It will make people more excited.
Make announcement:
Announce openly the break of how many days have been given to the employee and when they have to come back to work.
Show courtesy:
Write the letter with humility in your tone and courtesy so that people can feel that you announce this with excitement.
Read the two sample letters given below:
Sample letter 1:
To: The staff members
From: The CEO of the company
Date: [DATE]
Subject: New Year and Christmas holiday announcement
Respected staff members
Finally, the most awaited and beautiful part of the year has come that brings a lot of happy events, the family gets together, free time to relax, and much more. It is the best time of the year as we get to celebrate the birthday of Jesus Christ and also welcome New Year with zeal and zest.
We are so happy to announce that the company will remain closed from 25th December 202X to 3rd January 202X. The regular working of the company will resume on 4th January 202X. We expect you to come back to the same energy level at which you have gone to the break
At this happiest time of the year, I would like to extend prayers for all of you to have a joyful Christmas event with your friends and family members and a very happy and exciting start to the New Year. I pray that we all have a wonderful start to the year and may our all wishes come true that we have in our hearts.
You can contact me if you want to know anything. Wish you a very warm Merry Christmas and a joyful and happy New Year.
Regards.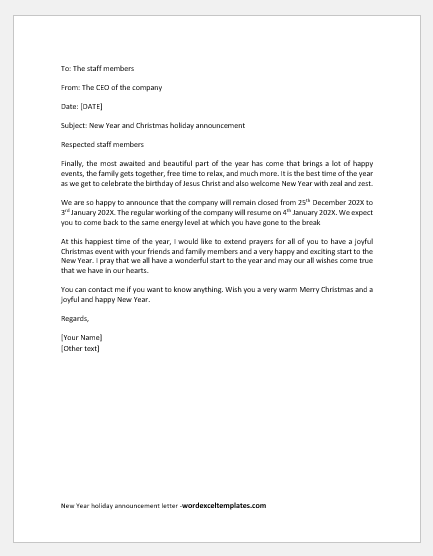 Sample letter 2:
To: The Recipient(s)
From: [The CEO of the company]
Date:
Subject: Holiday announcement for [XYZ]
Respected staff members,
I know that many of you are giving a final touch to your projects because you want to have a stress-free break time due to Christmas. We would like to stress taking a break from everything and focusing on spending time with our loved ones and giving a warm welcome to the New Year along with Christmas celebrations.
The company shall remain closed from 25th December 202X to 1st January 202X. It is a great time for all of us to focus on holidays and make the best time in this break. If you have any questions or need any kind of support, you should never hesitate to contact me. I would be here to answer your all queries without any concern.
I hope that all of you will return to work on the said date with the same enthusiasm and joyful feelings with which you are taking a break.  I wish you a very warm New Year and a very happy Christmas. Please extend your prayers for me, the staff, and the company.
Regards.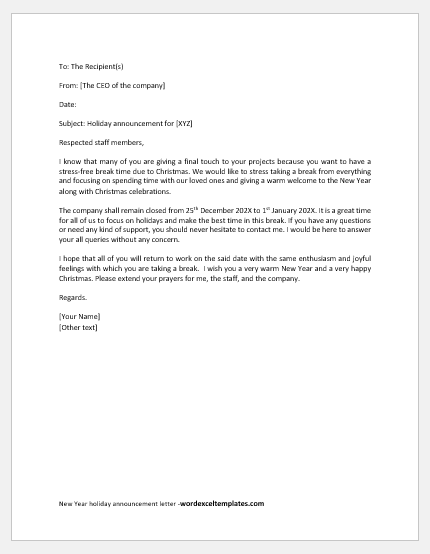 More similar letters…