Owning a vehicle is not as simple as you think. Maintaining is also one of the major parts of owning it. The maintenance log helps you keep a record of all the maintenance work that you have performed to keep the vehicle in good working condition.
This maintenance log enables you to have the information about all the important tasks that are important for keeping the vehicle in good condition.
The yearly or monthly car maintenance expenses can be predicted easily if the owner of the vehicle has a maintenance log to use. Whenever you provide maintenance to the vehicle, take some time and write down the details related to it in the log.
These details may include the date of maintenance, type of maintenance, the name of the person or the shop that provided the maintenance service, the total amount paid by you and other relevant information. You can also include the information about the mileage of the car at the time of maintenance.
You can prepare the maintenance log at home. You may prepare a log that will be more adaptable to your vehicle. Vehicle maintenance can be very costly if not scheduled properly.
Not having any schedule of maintenance can also put your safety in danger. Everything that you do for your car should be put in the log.
Benefits of using vehicle maintenance log:
It can be used to predict the cost that one will incur in providing maintenance to the vehicle.
It lets you know how frequently you are providing services to your vehicle.
It can help you note the condition of the entire vehicle as well as it's all spare parts.
The maintenance log can be used as a reference whenever needed.
You can see if anything broke when the vehicle was under warranty.
You can use this log to get the higher price of the car while selling it.
The entire budget of vehicle maintenance can be seen through this log.
The template for maintenance log can be downloaded from here. If you find anything missing in it, you can customize it.
Preview and Details of Template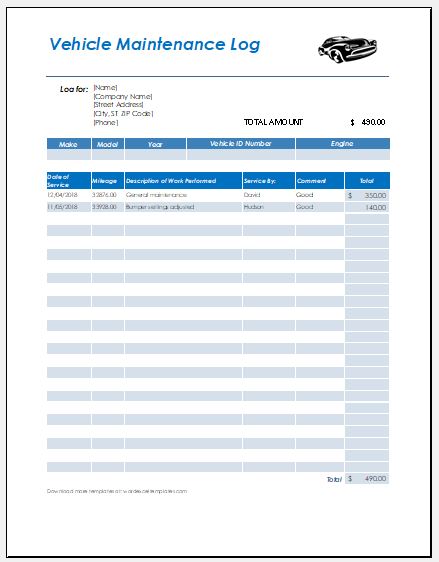 Vehicle Maintenance Log Template
File: Word (.docx) 2007+ and iPad 
Size 39 Kb   | Download
[Personal Use Only]