The biggest reason there has been an increase in the labor turnover rate, in the past few years, it is due to the unsatisfying working conditions provided by the organizations to their employees.
Standards of working conditions vary from company to company. For example, an organization that has employees' working outdoors such as for construction work is expected to provide proper measures for the health and safety of the employees. In case the organization has employee's working office jobs, they have a different set of standards for working conditions.
The organizations need to provide good working conditions for the employees in terms of both mental and physical health and safety, as well as a healthy work atmosphere where the employees can experience new situations which help them enhance their knowledge.
Employee's personal goals for their work life includes exploring and developing new skills which help them advance in their work field. This creates the sense of self-actualization and motivation, which derives the employees' to work hard and to keep their productivity levels high.
Furthermore, the development of skills and enhanced work performance also induces a sense of job security. An employee can only move forward if they have the required skill sets. If they only possess basic skills for a long time, there is a risk of the employee being replaced by someone better.
This fear of being replaced can cause stress levels and demotivation to increase. The feeling of not moving forward in their present job position leads to the employee searching for better opportunities, and thus resigning from their job.
An organization needs to provide opportunities for their employee that help them to grow in their fields to enhance their work performance. The organization also needs to make sure they do not overwork their employees as the unhealthy work life can cause employees to resign, eventually.
For example, training inside and outside the organizations give employees a chance to explore and develop new skills. These new achievements increase the employees' productivity levels and derive them to work more enthusiastically.
However, if the employee is not given space to grow, their productivity level may drop. This can cause the employee to become unsatisfied with their work and cause them to resign from the organization to search for better opportunities for themselves.
Below is a sample resignation letter from an employee who has been unsatisfied with the working condition of the organization that has changed the organization's goals:
Dear Name of Concerned Supervisor,
It is with regret that I inform you that I am resigning from my post in the XYZ department. Although my time with the organization has been satisfying, now I find it dissatisfactory according to my work goals. I feel like my productivity levels have dropped since there has been a change in the organization's goals. I have tried adjusting to the new system the organization has adopted reach their new goals, however, I find it difficult to do so.
Therefore, I request you to kindly accept my resignation letter from (Organization Name), effective (Last day of work).
Regards,
Your Name.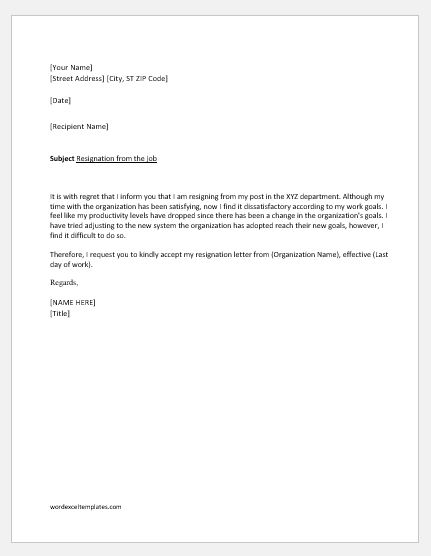 The letter sample
Format: MS Word [.docx]
Options: Download