A resignation letter is a letter written by an employee who has decided to leave his current job for any reason. In this letter, he addresses his employer and informs him about his intent. Although, after resigning, the employee would not be a part of the employer's organization, yet, it is always suggested to end on good terms. One, because it shows the employee's professionalism and secondly, you may need to reapply in the same organization in the future.
Therefore, when you are writing a resignation letter, you need to be considerate about writing a proper and professional letter. There are many things that you should avoid when you are in the process of preparing this letter, which include:
Avoiding vagueness, your letter should state the reason behind your resignation, but not in so much detail. It should not be wordy.
Do not rush the resignation and include a notice period. For instance, if you want to leave in June, you should not write the letter in June and at least give a month's notice or as required by the organization.
Even if you were dissatisfied with the boss or job and you are not leaving happily, yet, the letter needs to be professional and should not have condescending tone in any way.
It should be a resignation letter and should not sound like a complaint letter.
If you have decided to resign, avoid stating negative comments or bad reviews about anyone, in particular, be it your boss, subordinate or a colleague.
Abstain from using abusive or informal language.
Do not state bad review about the organization's products or services, culture, etc.
You do not have to provide the details of where you are going to work next or about your future career plans.
Avoid comparing the organization to its competitors in terms of working environment, money, benefits, etc.
It is a formal letter so do not reveal your emotions or sadness to a great extent. Try not to show your dissatisfaction directly.
No matter what has happened to you or what you have experienced during the period of the job, never include any type of threats in your resignation letter.
Avoid ending the relationship on negative terms. Yet, you do not have to overly show that you were extremely happy and satisfied if you were not.
Do not include any negative or offending remarks in the concluding part of your letter.
The abrupt ending needs to be avoided.
Your letter should not have any grammatical errors or any other language-related mistakes.
Avoid any incorrect or misleading information.
Do not skip the reviewing and proof-reading step.
If you really feel that you cannot leave the organization without communicating the issues that forced you to decide to leave your current job, even then, the resignation letter is not the mode that you can use. For this, you can utilize the opportunity of an exit interview.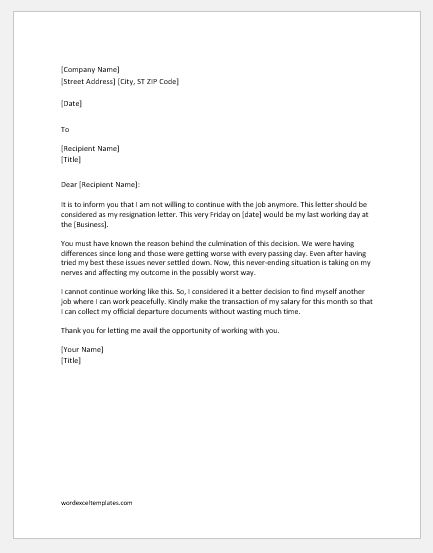 Immediate Resignation Letters
File: Word (.docx) 2007+ and iPad
Download
---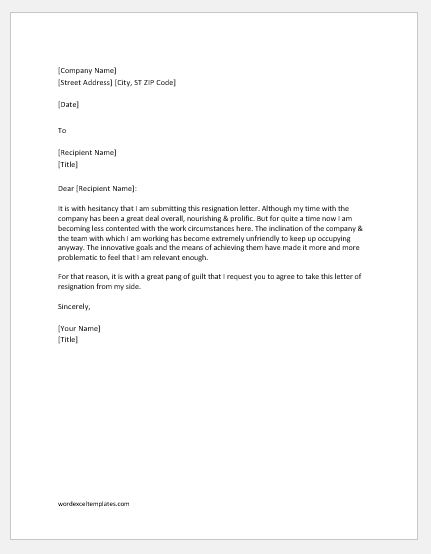 Sample Resignation Letters
View All
---