A recommendation letter also referred to as a reference letter, is a letter in which a person endorses a candidate's skills, capabilities, and character, to increase the chances of a candidate's selection for a job. The candidate could be a former colleague, a subordinate, or a friend.
A recommendation letter is an important document for the candidate's acceptance and an improper or negative recommendation may result in lower or no chances of selection. Therefore, when you are writing a recommendation letter for someone, you need to pay enough attention to various factors.
Following are some of the tips which may prove effective, if considered properly, while writing a recommendation letter:
Tips–>
-> If you do not know the candidate well or do not believe in him, it is better to refuse his request of seeking a recommendation from you, rather than writing a bad or negative letter, that may cause even more damage.
-> Even if you know the candidate, request him to provide you with his basic information about qualifications, experiences, skills, etc. This would give strength to your endorsement, as your recommendation could become candidate-specific and would be supported by his details.
-> Write the letter by starting with how long you have known the candidate, along with the reference to the context in which you had known him. This information would indicate how well you are acquainted with the candidate personally.
-> After a good and interesting introduction, provide the relevant details of his character, skills, abilities, hardworking nature, leadership and teamworking qualities, etc. If a recommendation is being written for an ex-subordinate, you can support these characteristics with your personal experience of working with the candidate.
-> You can provide your personal details, such as your contact number, email address, etc. so that if the probable employer wants to follow up, he would know the mode of communication.
-> You should be concise, formal, and professional. For instance, even if you are writing a recommendation letter for a friend, the tone of the letter should not be compromised on professional and formal words.
-> The letter should not be wordy yet, should convey and endorse the relevant details.
-> Proper use of language, grammar, spelling, sentence structure, etc. should be made.
-> Sometimes, when a probable employer asks for a recommendation letter from a candidate, he provides certain instructions which have to be followed by anyone writing the letter. You need to follow these instructions effectively so that the candidate does not have to suffer.
-> Reviewing and editing the letter, although, is the last step of writing a good recommendation letter, holds great significance. When you are done writing a recommendation letter, go through it again. Review the provided information and make modifications, if required, before sending it to the candidate.
-> This step is also important because sometimes, the referee is asked to seal the letter before giving it to the candidate for confidentiality purposes, which means the candidate would not get a chance to review the letter himself.
Sample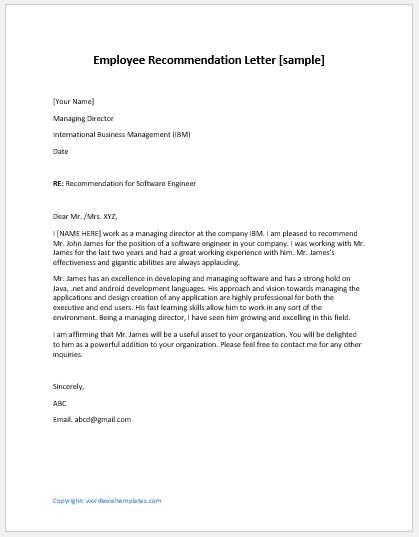 File: Word (.docx) 2007+ and iPad Size — Kb |
Download
---
See also
Weak recommendation letter for a job candidate
Thank someone for writing a recommendation letter for you
Recommendation letter for a product or service
Recommendation letter for promotion
Employee recommendation refusal letters
Community service letter of recommendation