Willful disobedience tends to be the intentional disobedience that a free agent does who knows what they are doing, but not necessarily behaving with malice and evil intent. This can be issued to employees for not obeying company policies.
What is a Warning Letter for Willful Disobedience?
A warning letter for willful disobedience is a letter given to an employee when they have not behaved according to company standards.
What to Include in the letter?
If you need to make a warning letter for wilful disobedience then you can consider the below points:
Microsoft Word– Create the document in Microsoft Word. The warning letter is a serious and professional letter and needs to be made in this way.
Date– State the date on the right-hand side.
To whom the letter is– This can be on the left side. State the name and designation of the person who the letter is for. After this have "Dear Sir."
Heading– Give the letter a heading, like "Warning Letter for Wilful Disobedience of…". It is necessary to have this so it is known what the letter is for.
1st paragraph– This should state why the person is getting the letter when they behaved in such a way and the results of their actions.
2nd paragraph– This needs to state what action has been taken against the employee. They could get suspended, or it can be a warning to not behave like this again.
End– End the letter with "Yours Sincerely." Then state the name of the company.
Advantages of the letter:
The advantages of a warning letter for willful disobedience are:
Is a formal way to address an employee when they have not behaved well.
Can be kept as proof of the person's behavior.
A warning letter for willful disobedience is a strict letter for a serious purpose. It needs to be made carefully and in a professional way. The wording needs to be like this as well. Consider the above points when you need to make this letter.
Warning Letter for Willful Disobedience
This letter serves you like the utmost warning for showing disrespectful attitude to your overseer when he asked you to do (MENTION INSTRUCTIONS). It is reported against you that you instantly refused him for following his instructions without even having mentioned any reason. This is the sheer disobedience for what you are asked to submit a document in which every detail of the incident is mentioned along with your repentance as in otherwise strict actions could be taken against you.
Since you have acknowledged that you cannot justify this action anyway, so you are given the last chance to prove yourself by adopting the needed and organized attitude at the workplace. Hope to see a better you from right tomorrow!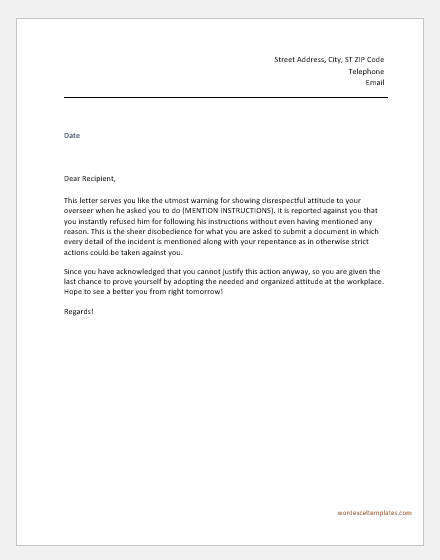 File: Word (.docx) 2007+ and iPad Size 39 Kb |
Download
---
Warning Letter for Willful Disobedience to the Management
As is obvious from the title of this letter, you have come under scrutiny for your willful disobedience to the management. It is reported that you didn't obey their standing order. Moreover, it has been clearly mentioned that you did it on purpose which is never ignorable. We always aim at providing a healthy and friendly atmosphere to our employees which does never mean that such ill-mannered approach would be entertained.
According to the rules of the company, you deserve to be punished strictly but keeping in view your overall performance, the company issues you this warning letter as the first and the final warning for such unacceptable attitude in the house.
Hope you will mend your behavior to the best.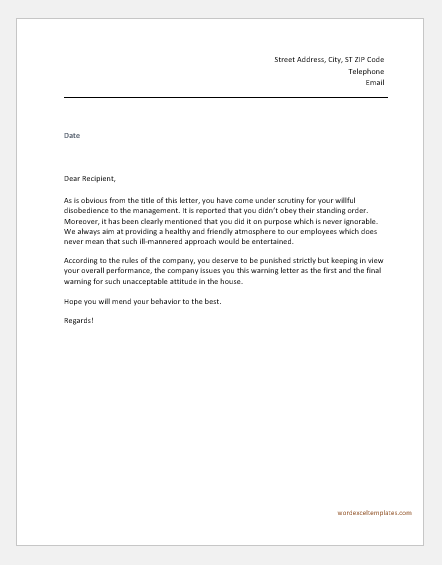 File: Word (.docx) 2007+ and iPad Size 33 Kb |
Download
---