#1
This email is to inform you of my sudden extreme migraine leaving me unable to come to the office. I was absolutely prepared for today's routine but as soon as I woke up this morning, I am suffering from severe and constant attacks of migraine. I tried to soothe the pain by eating the painkillers as well but nothing worked out well. I believe that I have to go to the doctor on an urgent basis to overcome this state. Whatever work is due from today I assure you I will get it accomplished by tomorrow. Thank you for understanding.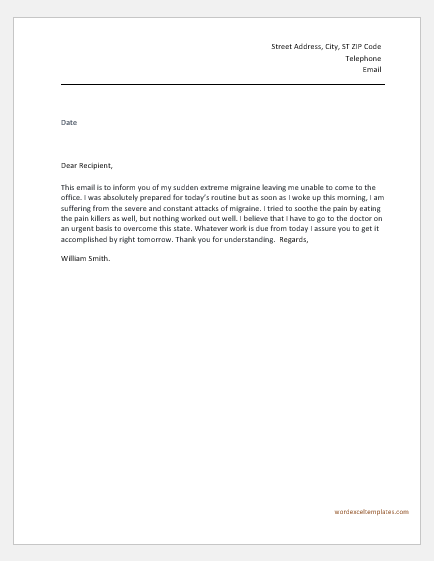 File: Word (.docx) 2007+ and iPad Size 39 Kb |
Download
---
#2
The purpose to write this email is to bring it to your knowledge that I won't be able to come to the office tomorrow as I fell off the stairs. I got many wounds on my legs and arms some of which I can even show you the day after tomorrow. I just came back from the doctor and she advised me to take rest at least for one day. I also got my x-rays done in order to see if my bones were affected by this jerk. I will get my x-rays reports tomorrow and depending upon that will further decide which way to proceed.
I have also attached my MC with this email. Thank you!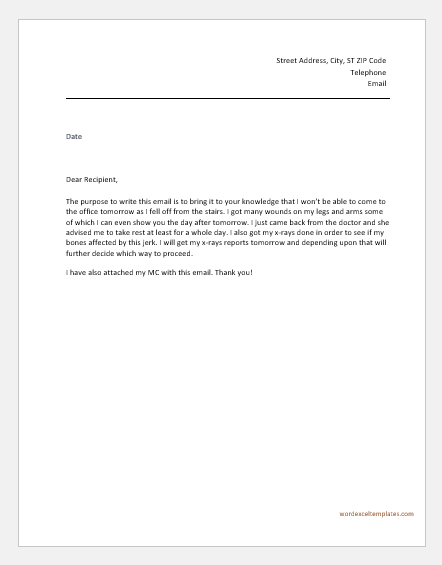 File: Word (.docx) 2007+ and iPad Size 25 Kb |
Download
---
#3
I am writing this email to you in a state of confusion since I wanted to announce this news in the office along with some sweets, but I am not feeling like doing it right today. I was feeling down for the last many days since my colleagues (MENTION NAMES) also noticed it but I didn't really consider it something this serious. I got my checkup done yesterday after returning from the workplace as I was super nauseous, and I came to know that I am in the 6th week of my pregnancy.
I gave you this context to inform you that I am unable to make it come to the office tomorrow. So kindly forward this email to HR so that they could process my sick leave.
Thank you!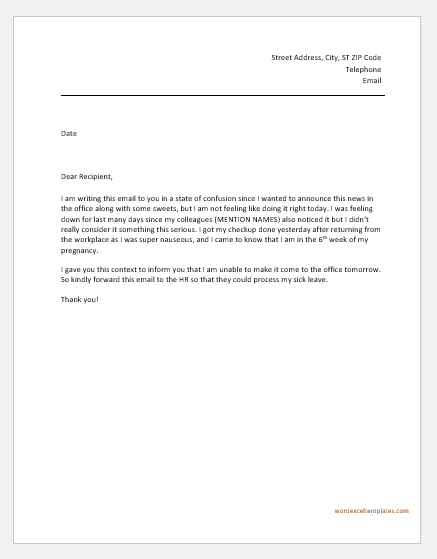 File: Word (.docx) 2007+ and iPad Size 22 Kb |
Download
---
#4
The purpose of writing this email is to inform you that I am not able to come to the office today as I am under the weather having flu and a sore throat to the worst. I was taken to the emergency room late at night as it kept on getting worse. I could hardly say a word and breathe when I was taken to the hospital in a state of dizziness. The doctor prescribed me to take rest for some days until I get well completely.
I am also attaching the prescription along with this email so that you could see the worst condition I am in. On returning to the office I will make sure to complete all the unaccomplished work so that my sudden bad health doesn't become an obstacle in the way of my highly professional record.
Regards!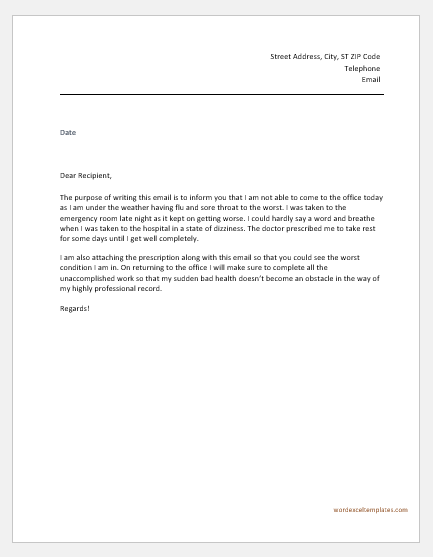 File: Word (.docx) 2007+ and iPad Size 21 Kb |
Download
---