A project proposal letter is a letter written by the person or organization submitting the proposal in order to take advantage of any business opportunity. This letter is addressed either to the business partners, a client organization, or a probable sponsor.
When a business proposal is submitted, this letter is sent along with it for the reasons, such as:
A letter is always a good and formal way of communication. It would not only deliver the message but also builds a relationship with the client.
This letter kind of serves as an introductory document of the proposal.
It provides a chance for the person or organization writing this letter to communicate and address any concerns, issues, etc., which could not be stated in the proposal document or needs reinforcement by restating it in the letter.
It includes the details that would be required of the client in the case of acceptance.
Usually, all the proposals are sent along with this letter so, organizations either design a template or use an already available template from online sources or programs, such as Microsoft Word, Acrobat PDF, etc., for writing this letter. The chosen template is then customized as per the needs and requirements of the proposal, which may vary from project to project. However, the general details included in such letters are:
Date.
Details of the person/organization submitting the proposal.
Details of the client.
Gratitude for the opportunity.
Summary of the project proposal.
Any issues or concerns that might arise.
Insurance.
Documents and signatures are required from the client in case of the proposal acceptance.
Signature and salutation.
Sample Project Proposal Letter
Dear Mr. John,
Thank you for providing us with the opportunity to submit our business proposal to ABC Limited. Along with this letter, we are providing a detailed proposal that includes all the timelines and the payment charges. Let us know if you have any questions or want any modifications. We will feel honored if our proposal gets accepted by your organization.
As the real business environment cannot be predicted completely because of external factors, the costs of raw materials and other inputs may differ slightly from the stated figures. However, we have provided three figures of lower than expected, expected, and higher than expected, to provide you with better forecasting of profitability. In addition, the transport cost of transferring the goods from our factory to your store may differ as well as per the circumstances and petrol costs.
We have insurance up to XX million dollars, which provides the safety net for this proposal in case of any mishap.
If you would like to accept our proposal, kindly, fill out the attached form and sign in the relevant places. Also, kindly, provide us with a detailed brief and a copy of the title deeds.
Looking forward to a positive response, a chance to serve your organization, and a good working relationship.
Regards,
William Smith.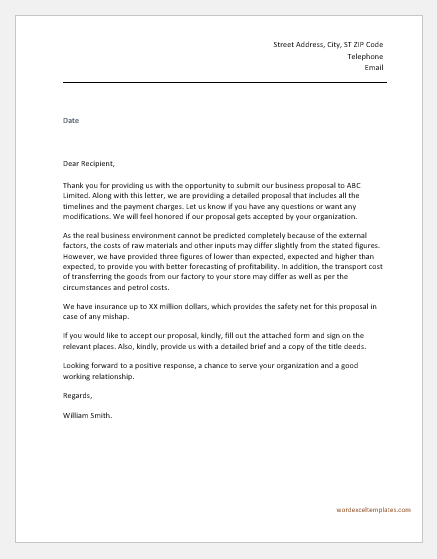 File: Word (.docx) 2007+ and iPad Size 29 Kb |
Download
---