One often needs a recommendation or a reference letter for work or academic purposes. This letter can be presented as an authorized reference of a person's character, work experience, qualification, skills, abilities, etc. The person who writes a recommendation letter or provides a professional reference is usually a former employer, manager, customer, instructor, teacher or anyone who knows an individual and can provide the sort of a guarantee of an individual in terms of his skills or character mentioned in the letter.
The referee, person who is requested to write such a letter, takes his time out to prepare this letter and hence deserves gratitude.
Therefore, a thank you letter is often written by a person who has been recommended or referred to in the letter. In this letter, he thanks the referee for:
The referee's time and effort
Good words about and trust in the person
Taking guarantee of the person
The general format of the letter is:
Date
Details of the person
Details of the referee
Mention the recommendation letter written by the referee
Inform how his recommendation can or has helped
Show gratitude and acknowledge the effort
This thank you letter makes the referee feel appreciated and show that his effort has been acknowledged formally as well. In addition, a gratitude letter builds up a relationship with the referee for any future recommendations as well. Although, when a person receives a recommendation letter, he certainly thanks referee but writing a formal letter or note certainly makes the referee happier.
Sample letter 1
I express my deep gratitude to you for writing the recommendation letter for me. I believe that it was certainly due to your kind words that I had received job offers from the leading companies I had applied job for. Your recommendation has surely helped me fulfill my dream work. Our work association over the years and your expertise in the field of technology has made me enable not only to grow but also enhance my skills.
Once again thank you for your time and effort in writing the recommendation letter for me. It was very kind of you.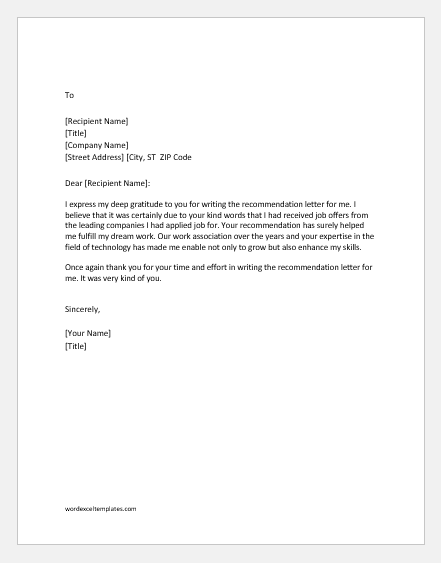 Sample letter 2
You are surely the very first person whom I wanted to break the news of my job. I got selected for the post of area sales manager at XYZ. A formal interview of mine has been conducted by the HR of the company but a more detailed interview is yet to come. I am very thankful to you for writing a recommendation letter for me.
Your belief in me has generated such a strong recommendation letter by you that it has enabled me to live my dream. I strongly believe that it was due to your recommendation that got me the job. Thank you once again for not only in supporting me but also for believing in me.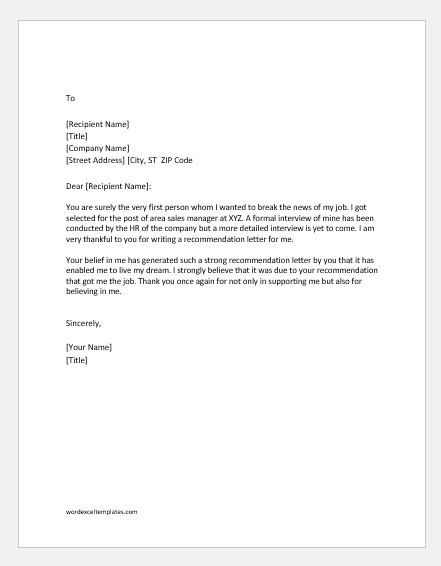 Sample letter 3
Your recommendation letter has surely won hearts. I am really thankful to you for writing down such good words for me. I had received job offers from companies and had decided to work for ABC. It is undoubtedly the best company to work with and I believe that it was all due to your strong recommendation.