A recommendation or a reference letter is often sought by a job candidate to signify his good character, skills, capabilities, and experiences. The person who is requested to write this letter, a referee, can be a teacher, ex-employer, colleague, etc. Sometimes, a referee does not feel comfortable enough to write a recommendation letter about a candidate and yet does not want to refuse the request as well. In such scenarios, he chooses to write a weak recommendation letter for the candidate.
The reasons behind writing this letter could be:
The referee has not spent sufficient time with the candidate and does not know the candidate enough to certify or guarantee his abilities or character.
The referee does not truly believe in the candidate's capabilities.
The referee does not want to take guarantee so to avoid any future issues.
When the letter is being written, the referee has to carefully choose the words and tone so that the employer would get an idea that the referee is uncertain about the candidate's characteristics. The letter is generally written in the following format:
Date
Details of the referee.
Details of the person it is being addressed to.
Indicate who has requested the recommendation.
The weak recommendation.
Leave room for questions.
Although it is better to refuse writing a recommendation letter if a referee is uncertain about the candidate's skills, sometimes it becomes difficult to say NO due to many reasons. Getting a weak recommendation letter may help the company evaluate the candidate better.
Sample letter -1
I am writing this recommendation letter following the request of Mr. Henry who has recently applied for the job at your company. I have known Henry from the past 5 years and have found him to be good gentlemen. He completes his work tasks in time and is a responsible individual.
My sincere wishes are for Henry for his future endeavor. For any more queries, you can always contact me.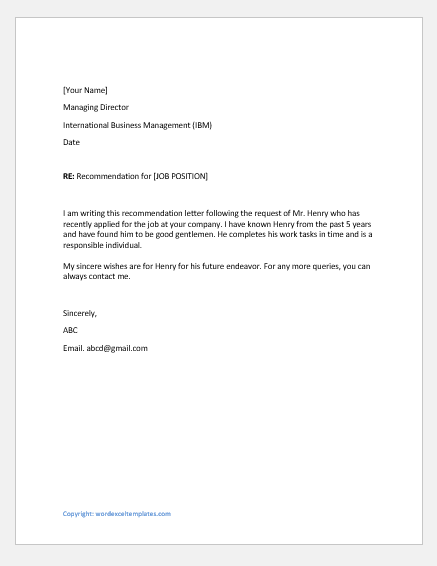 Sample letter -2
Recently, Meezo a former student of mine has applied for a job at your company. This letter is in response to his recommendation request. Meezo has been a very good student who has always performed well enough throughout his study period. His grades have been consistently good.
I wish him the best of luck for the future. For any further questions, feel free to contact me.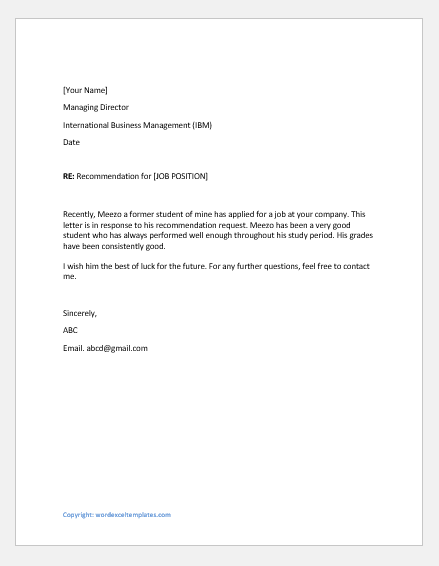 Sample letter -3
I am writing this letter in response to the recommendation request made by Jane, one of the job applicants in your company. Jane is a very well-versed lady who has good communication skills. She has been a very good employee of ours who is a hard worker.
Wishing her the very best in future.