Academic recommendation letters are written for many purposes including writing for the recommendation to a student, recommendation from professors for the student, and recommendation from the employer for the employee or coworker. All these have different purposes and different requirements. The main aim is to fulfill the criteria to achieve the part and the job. A good recommendation plays the key role in getting the admission to a university or a job at a company.
How to write an academic recommendation letter:
When you are writing an academic recommendation letter, keep an eye on the following key points and follow them while writing the letter.
Keep the focus on a university/ school:
You should know the school or university to whom you are writing the letter. It is essential to have knowledge about the background of the institution. The letter should be able to convince the authorities that the student will be able to cope up with the standard of the university and will perform brilliantly on the subject of his choice.
You must start from the basics. For the students, collect data of their academic record, their assignments and research papers' quality and their behavior in the class and outside the class. Attach the records of any excellence achieved in extracurricular and curricular activities.
Explain your relation to the person:
While writing the recommendation letter, try to give a brief reference to your relation with the student. How come you know him and what inspired you to write a recommendation letter for him.
Contact details and other requirements:
Share your contact details so that the relevant authorities can contact you for the sake of confirmation. Write your name, designation and contact details clearly.
Understand the requirements to submit this letter because some universities want to have printed documents while others want it to be emailed. Some want a different format such as MS Word or Pdf etc.
Write the letter if you are willing to support the student and his cause. Don't write anything negative about him.
Our team has designed a sample for your consultation and help.
Preview and Details of Templates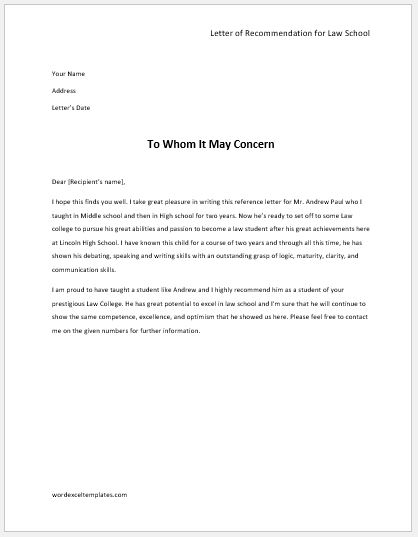 Letter of Recommendation for Law School
File: Word (.doc) 2003+ and iPad
Size 28 Kb | Download
License: ENERGY (Personal Use Only)
Distribution by Kate Elizabeth(CEO)
---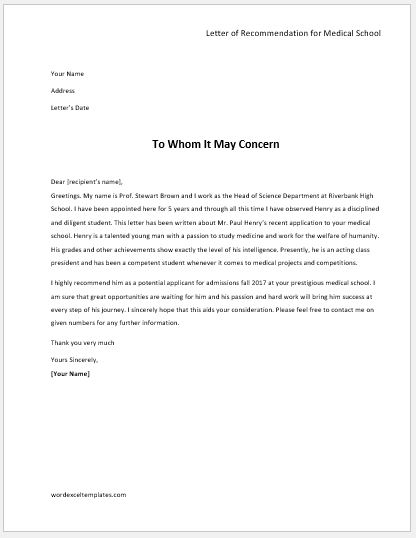 Letter of Recommendation for Medical School
File: Word (.doc) 2003+ and iPad
Size 28 Kb | Download
License: ENERGY (Personal Use Only)
Distribution by Kate Elizabeth(CEO)
---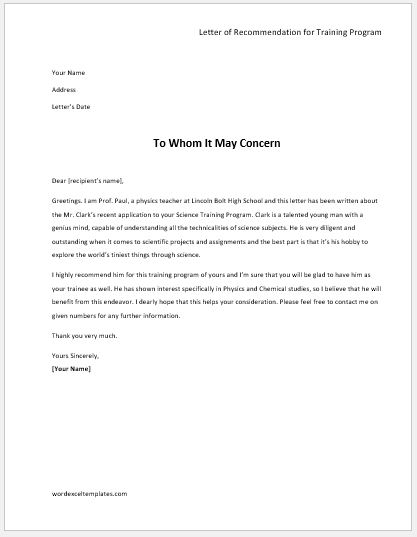 Letter of Recommendation for Training Program
File: Word (.doc) 2003+ and iPad
Size 28 Kb | Download
License: ENERGY (Personal Use Only)
Distribution by Kate Elizabeth(CEO)
---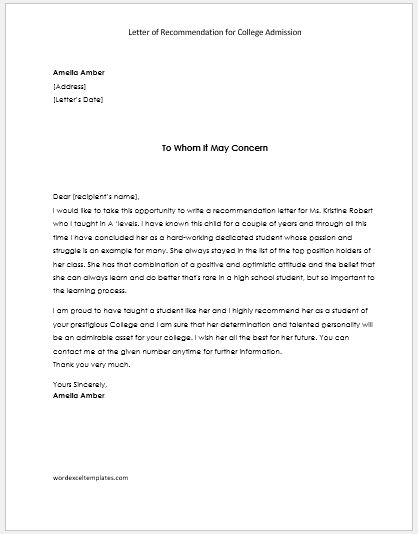 Letter of Recommendation for College Admission
File: Word (.doc) 2003+ and iPad
Size 28 Kb | Download
License: ENERGY (Personal Use Only)
Distribution by Kate Elizabeth(CEO)