Academic recommendation letters are written for many purposes including writing a recommendation to a student, a recommendation from professors for the student, and a recommendation from the employer for the employee or coworker. All these have different purposes and different requirements. The main aim is to fulfill the criteria to achieve the part and the job. A good recommendation plays a key role in getting admission to a university or a job at a company.
How to write an academic recommendation letter:
When you are writing an academic recommendation letter, keep an eye on the following key points and follow them while writing the letter.
Focus the university/school
You should know the school or university to whom you are writing the letter. It is essential to have knowledge about the background of the institution. The letter should be able to convince the authorities that the student will be able to cope with the standard of the university and will perform brilliantly on the subject of his choice.
Collection of information
You must start from the basics. For the students, collect data on their academic record, their assignments and research papers quality, and their behavior in the class and outside the class. Attach the records of any excellence achieved in extracurricular and curricular activities.
Explain your relationship with the person
While writing the recommendation letter, try to give a brief reference to your relationship with the student. How come you know him and what inspired you to write a recommendation letter for him?
Contact details and other requirements
Share your contact details so that the relevant authorities can contact you for the sake of confirmation. Write your name, designation, and contact details clearly.
Format
Understand the requirements to submit this letter because some universities want to have printed documents while others want them to be emailed. Some want a different format such as MS Word or Pdf etc.
Write the letter if you are willing to support the student and his cause. Don't write anything negative about him.
Our team has designed a sample for your consultation and help.
Preview and Details of Templates
Letter of Recommendation for Law School
I am writing to recommend XYZ for admission to your prestigious law school. He has been my student for the previous 2 years during his A levels at ABC School and College. It has been an absolute delight having him in my law classes since he is a quick learner and extremely focused on his studies.
XYZ has proven his mettle by working hard throughout his A levels and achieving straight As. He has a thirst for knowledge and loves to learn. His dedication to law studies is astounding. He aspires to become an Environmental lawyer and definitely has lots of potentials. Your law school can give him a chance to sharpen his skills and receive the guidance he seeks to follow his career path.
XYZ's analytical and problem-solving skills are amazing. He has a sharp mind and comprehends concepts quickly. He is definitely going to be a great addition to your law school. I, therefore, highly recommend him for admission to your law program.
Please don't hesitate to get in touch with me for more information. I would love to be of assistance to you.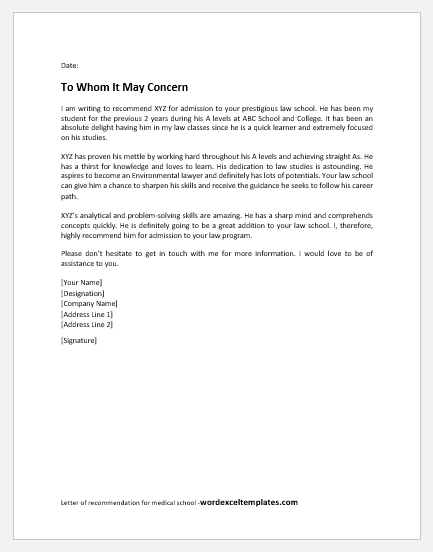 Letter of Recommendation for Medical School
I am delighted to recommend Sarah Shahid for admission to XYZ Medical College. She has been my student in Biology classes during her Intermediate Pre-Medical program. It has been a pleasure teaching a hardworking, focused, and dedicated student like her.
Sarah is a high achiever. Her academic performance has always been impressive. She is also a quick learner and grasps concepts easily. At the same time, she also has a sharp memory. Sarah is able to learn and recall complex terminologies and names quite easily. These are important traits for a medical student.
Moreover, she is also a kind-hearted individual. She exhibits empathy toward others and is always ready to help them. She has been quite active during the college's voluntary welfare activities. Her genuine concern for others indicates that she is going to make a compassionate and caring doctor.
With all her impressive academic achievements, Sarah deserves to get admission to a prestigious Medical School. I hope your admission committee will acknowledge her skills and abilities and give her a chance to prove her mettle.
Please feel free to contact me with any queries.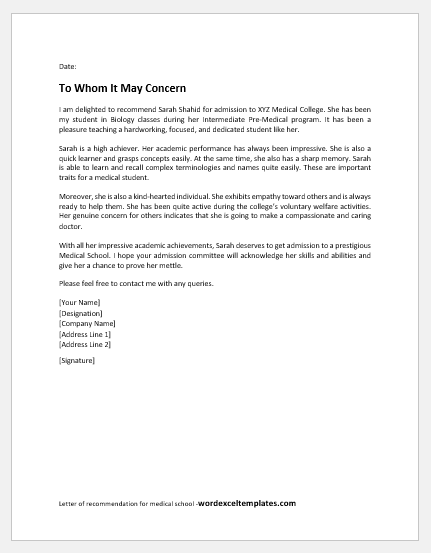 Letter of Recommendation for Training Program
I recommend Mezo for the company's upcoming XYZ training program in China. He is one of our most skillful employees with a thirst for knowledge. Selecting him for the said training will be beneficial for the company.
Doe has been serving the company for the past 6 years. During this time, he has been enrolling himself independently in various training programs to update his skills. Further polishing his skills will boost his performance which in turn will be beneficial for the organization.
It is, therefore, my recommendation to choose John Doe for this program. He will not disappoint us.
It is with great pleasure that I recommend XYZ to ABC College. I had the joy of teaching her during her A-Level program at Roots School and College.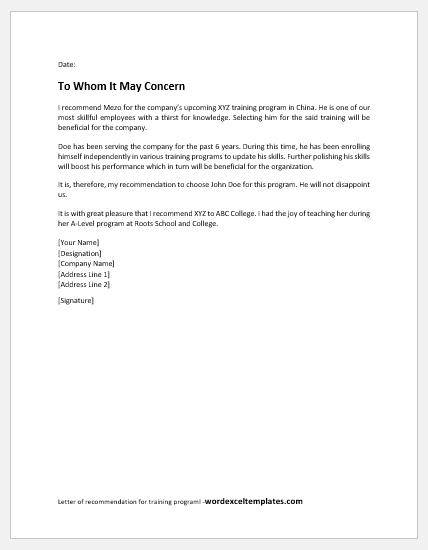 Letter of Recommendation for College Admission
She is a brilliant student and a high achiever. I have witnessed her amazing progress and can guarantee a bright future for her. She is certainly going to be a wonderful student at your college with lots of potential for success.
You may contact me at the provided number for any queries.
More sample letters…