Evaluation and feedback are the things that keep a company or a firm motivated. These things determine whether the objectives are reached or not. Training of the employees is conducted to increase the yield of work and performance in the field. The training evaluation forms or training feedback forms are conducted to evaluate the scale of the performance of the trainee. This is essential to determine the extent to which the objectives are met.
The importance of a training feedback form:
The importance of the feedback form is seen from the two perspectives. The one is from the employees who are taking the training. The other is the trainer who is conducting the training.
The feedback forms are given to evaluate the success of the training. Whether it was beneficial or not for the employees' skill terms. The companies aim at cheaper and cost effective training programs. They check the cost benefits ratio of the training through these forms.
The forms are based on the data that is relevant and comparable to the topic of the training. The aim of conducting a feedback form from the employees is fulfilled if it's conducted in a professional, logical and planned way.
Things to consider while making a feedback form:
The form should be well-constructed and optimized with the best questions. Questions should not be too extensive and hard to understand.
The questions should be based on the subject of the training.
Ask the overall quality of the training.
Ask questions that are not biased and have all the possible answers.
Do not try to assume the answer to the question while making the questionnaire. It might affect the end results.
The questionnaire should not be too extensive and loaded with questions.
Ask about the content of the training.
Handouts are mostly provided in the training. Ask the employees about the effectiveness of the handouts.
Ask about the timing, venue, and length of the session.
Ask about the performance of the trainer. How much satisfied they are with the trainer?
You can also ask about the things that they learned and the things they want you to improve in the next training sessions.
Concluding the topic, a sample of the training feedback form is given here. Our professionals have designed it while keeping all the key features in mind.
Preview and Details of Template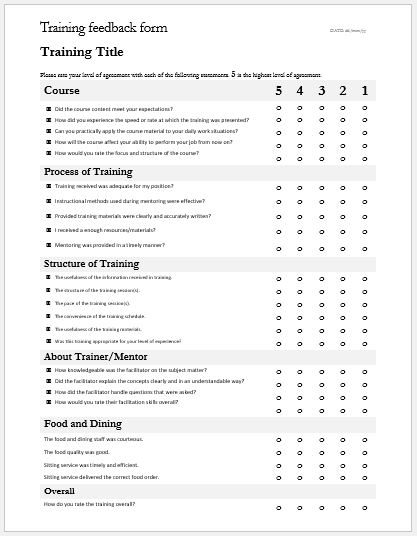 Training Evaluation & Feedback Form Template
File: Word (.doc) 2003+ and iPad
Size 28 Kb | Download
File: OpenOffice (.odt) Writer [writer]
Size 16 Kb | Download
License: ENERGY (Personal Use Only)
Distribution by Kate Elizabeth(CEO)