Recommendation letters
If you want to recommend any of your friends or colleagues for a job position, you may need something in written form to recommend them. For this purpose, the recommendation letter can be used. The letter of recommendation can also be used when you want to recommend your company to hire a specific person.
The information that is required to be added in this letter should be known. Another important thing to know is the format of the letter. It is very important to write a recommendation letter effectively since it shows a strong coordination between the employee and his experience.
That information can then be useful for him to get the job on the position for which he has applied. Make sure that the details you have included in this letter are in accordance with the job. Those skills of the employee should be mentioned in this letter that the job requires.
How to write the recommendation letter?
There are different sections of this letter that should be written with care.
Introduction:
The first section of the letter is based on the introduction. This should include the details of the candidate such as his name, current designation, the experience, skill level etc.
Body:
This section should include some of the qualities of the employee. This section is the best place of the letter where you can emphasize on the skills and capabilities of the candidate. Compare the candidate with other applicants and try to show how he can be the best choice of the recruiter. Since this letter is a formal document, try to write it in professional language. You should use the realistic approach while writing it. For this, you can add some of those areas where the employee needs improvement.
Conclusion:
A conclusion is where you end the letter. Finish the letter with the overall assessment of the individual. Refer some of the best qualities of the individual and also tell why the individual is the best candidate for this job. Also, include that you are not responsible for any action of the employee during the job.
Preview & Details of Templates
Employee Recommendation Letter Template-1
File: Word (.doc) 2003+ and iPad
Size 44 Kb | Download
File: OpenOffice (.odt) Writer [writer]
Size 12 Kb | Download
License ENERGY:
[Not for resale & distribution]
---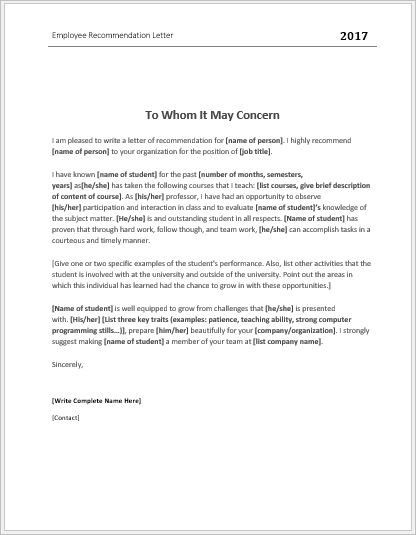 Employee Recommendation Letter Template-2
File: Word (.doc) 2003+ and iPad
Size 44 Kb | Download
File: OpenOffice (.odt) Writer [writer]
Size 12 Kb | Download
License ENERGY:
[Not for resale & distribution]