Recommendation letters
If you want to recommend any of your friends or colleagues for a job position, you may need something in written form to recommend them. For this purpose, the recommendation letter can be used. The letter of recommendation can also be used when you want to recommend your company to hire a specific person.
The information that is required to be added to this letter should be known. Another important thing to know is the format of the letter. It is very important to write a recommendation letter effectively since it shows strong coordination between the employee and his experience.
That information can then be useful for him to get the job in the position for which he has applied. Make sure that the details you have included in this letter are in accordance with the job. Those skills of the employee should be mentioned in this letter that the job requires.
How to write a recommendation letter?
There are different sections of this letter that should be written with care.
Introduction:
The first section of the letter is based on the introduction. This should include the details of the candidate such as his name, current designation, experience, skill level, etc.
Body:
This section should include some of the qualities of the employee. This section is the best place for the letter where you can emphasize the skills and capabilities of the candidate. Compare the candidate with other applicants and try to show how he can be the best choice for the recruiter. Since this letter is a formal document, try to write it in professional language. You should use a realistic approach while writing it. For this, you can add some of those areas where the employee needs improvement.
Conclusion:
A conclusion is where you end the letter. Finish the letter with the overall assessment of the individual. Refer to some of the best qualities of the individual and also tell why the individual is the best candidate for this job. Also, include that you are not responsible for any action of the employee during the job.
Few Samples
1- From the Manager
Jane Doe has worked as (job title) at XYZ company for the past 8 years. She has been a valuable asset to the organization due to her hard work and dedication.
Jane is proficient at her work. She has also been independently enrolling in relevant Training and Certification Programs in order to further enhance her skills. This made her one of the strongest members of our team.
Even though we are going to miss having her work for us, it is my pleasure to recommend Jane for your company. She is certainly going to be a valuable addition to your team.
Please feel free to contact me for further assistance.
2- From a Coworker
I highly recommend John Doe as a worthy candidate for (job title) at your company. I worked with him at XYZ Company between 2015 and 2020. He has been an inspiring coworker owing to his impressive performance and dedication toward work. He is certainly going to be a valuable addition to your organization.
John has been working as (job title) at XYZ. He is well-qualified and skillful. He is also experienced at dealing successfully with clients owing to his interpersonal skills. At the same time, he is an excellent team player. He cooperates with team members, exhibits a perfect work ethic, and works in subservience to his seniors. He is amicable and polite yet very energetic.
Working with John has been a rewarding experience. I wish him luck in his future.
Please contact me at (email ID) for further information and queries.
3- From the teacher
It is my pleasure to recommend XYZ as the Creative Manager for your project. He has been my student at ABC Institute and completed a 4 years course in Media Studies under my guidance.
XYZ is a fast learner. He is also very creative and can come up with unique ideas that are very exciting. He is one of the rare people who can think outside the box. These are very valuable qualities for a Creative Manager.
XYZ is also hard-working. As my student, he took all assignments seriously and worked with complete focus. He can also manage deadlines quite well. He can, therefore, be a valuable asset to your team.
I would love to discuss any more required details about XYZ with you. Please feel free to get in touch with me at the provided email address and phone number.
4- From the CEO
XYZ has been a valuable member of our team at ABC Company. He worked for us as the Health and Safety Manager between 2017 and 2022. His work performance has been up to the mark throughout this period.
His job duties included Health and Safety inspections at our work sites. He was responsible for ensuring that all employees and the hired laborers are following safety protocols at the construction sites. At the same time, he also delivered workshops to teach the employees the importance of observing safety rules at the job site.
XYZ's annual performance reports have always been impressive. He has been showing consistency throughout his service with his. He can be a valuable employee at any organization.
Kindly call the provided number between 3 to 5 pm for further queries.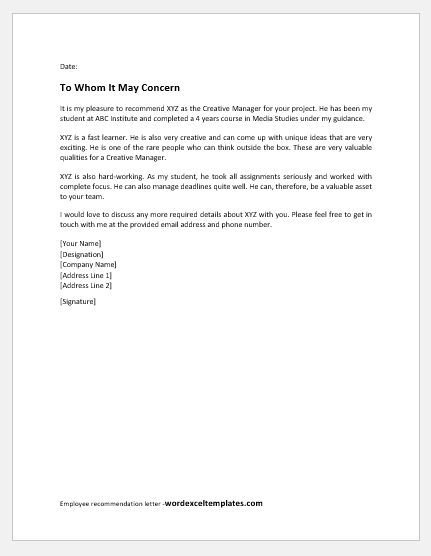 More sample letters…