If you have a product and no one knows about it that means you don't even have a product at all. Marketing is the heart of any business and currently, when consumers have become smarter than ever, marketing is the key to success for any and every business.
Marketing is the way to promote, educate, and create awareness regarding a product. The word marketing may seem to have one single meaning but that is just not true. Marketing is a whole chain of events that will not only generate potential leads but will also help create new customers. Having amazing products is of no use if your customers are not even aware of their benefits.
Producing and Selling Products
Product development is not an easy task. It takes time and effort to develop and adjust per customer needs. But that is just not enough. Creating a product is just the first step but selling that product is what makes a business successful. Until you are a known company and you have a following already, your products will create a buzz. But if that is not the case, you need to have successful marketing strategies to sell and grow your products.
Once your products become the talk of the town, the chances of your products being sold immensely increases. Once customers start purchasing your products, they share their experiences with their friends and family.
Without marketing strategies, it becomes very hard for the company to spread even a single word about their product.
Reputation is very important these days. So, building a brand name is very meaningful for the customers, and marketing are the best way to build your own brand name. As the reputation grows, it helps the brand attract more customers which results in increased sales.
Marketing Campaign Trackers
It is easy to monitor financial or payroll results. But marketing has its own challenges. There is no fixed rule for marketing and strategies are implemented every other day.
Marketing is not just one area, it contains more than just television adverts so it is one of the best practices to prepare a marketing schedule and track the progress by preparing a marketing campaign tracker.
Marketing has different phases such as planning, preparation and follows up. The phases can be monitored on a regular basis. The starting and ending dates of all the phases should be mentioned and monitored. The variances between the planned and actual results should be accounted for.
Following is given a marketing campaign tracker template that will help you do the job in a smart way.
Preview and details of the template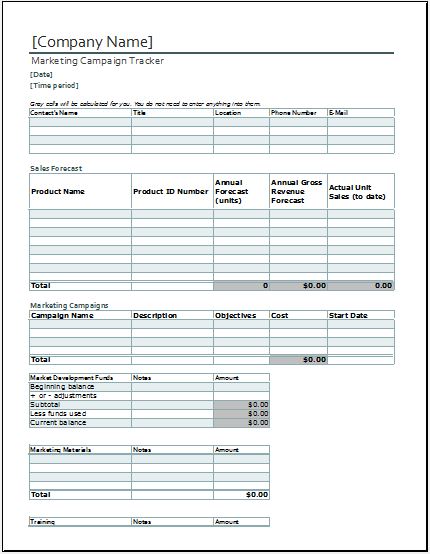 File: Excel (.xls) 2003+ and iPad Size 44 Kb |
Download
File: OpenOffice (.ods) Calc [Calc] Size 12 Kb |
Download
---