Warning letters in any company are issued when an employee breaks the rules and regulations of the company. It's not acceptable for any company to tolerate the violation of rules by anyone as it damages the reputation of the company as well as ruins the discipline. Because of this, whenever a person violates the rules, the company must warn him.
The warning can be given verbally as well as in written form. The written warning has more value because it also serves as a record that the employee was warned before. While writing this letter, it's imperative to keep in mind that the entire problem of rules violation should be addressed properly.
Warning the employee by writing the warning letter is a formal way which is chosen when the verbal way of warning does not work. Since the warning letters are formal, it is important to keep the language of the letter simple and polite.
The employee should be told that he is being warned for the rules violation and the consequences of violation again should also be written in the letter.
Keep the letter simple and to the point. The unnecessary details should not be added to the letter. The sample warning letter for violating rules and regulations can be consulted while drafting your warning letter.
Warning letter for violating rules and regulations:
Dear [Recipient's Name],
I am writing this letter to warn you regarding the violation of rules and regulations of the company. You have already been warned several times by our manager verbally, and it did not work. It has been observed that you are often late to your work. Not reaching the office on specified time is against the principles of our company. The timings of arriving and leaving the office are mentioned at the door of the office and on your appointment letter. We expect that you will take this letter seriously and try to come on time in future. Failing to would result in strict actions against you.
Preview and Details of Template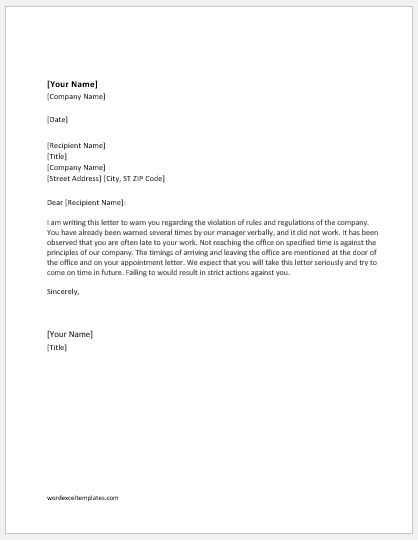 Warning Letter for Violating Rules & Regulations
File: Word (.doc) 2003+ and iPad 
Size 31 Kb | Download
License: ENERGY [Personal Use Only]