Warning letters in any company are issued when an employee breaks the rules and regulations of the company. It's not acceptable for any company to tolerate the violation of rules by anyone as it damages the reputation of the company as well as ruins discipline. Because of this, whenever a person violates the rules, the company must warn him.
The warning can be given verbally as well as in written form. The written warning has more value because it also serves as a record that the employee was warned before. While writing this letter, it's imperative to keep in mind that the entire problem of rules violation should be addressed properly.
Warning the employee by writing a warning letter is a formal way that is chosen when the verbal way of warning does not work. Since the warning letters are formal, it is important to keep the language of the letter simple and polite.
The employee should be told that he is being warned for the rules violation and the consequences of violation again should also be written in the letter.
Keep the letter simple and to the point. Unnecessary details should not be added to the letter. The sample warning letter for violating rules and regulations can be consulted while drafting your warning letter.
Warning letter for violating rules and regulations:
Dear [Recipient's Name],
I am writing this letter to warn you regarding the violation of the rules and regulations of the company. You have already been warned several times by our manager verbally, and it did not work. It has been observed that you are often late to your work. Not reaching the office at the specified time is against the principles of our company. The timings of arriving and leaving the office are mentioned at the door of the office and on your appointment letter. We expect that you will take this letter seriously and try to come on time in future. Failing to would result in strict actions against you.
Preview and Details of Template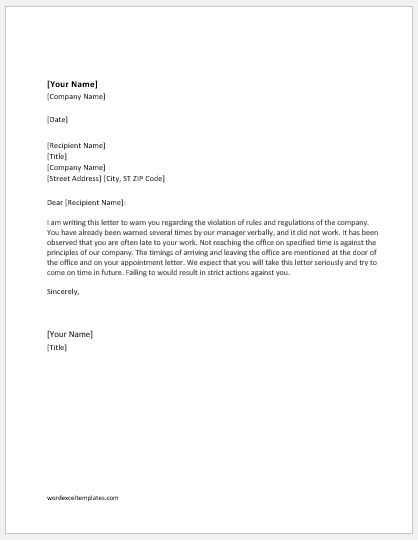 File: Word (.doc) 2003+ and iPad 
Size 31 Kb
More samples
#1
This letter serves as a warning on account of violating the organization's policies. MR. Smith, your supervisor, alerted you many times about the consequences it will put on your job. Despite giving many gentle reminders, you remained stubborn and missed all the important meetings. As per the organization's policies, if you are intended to take leave, you need to inform your manager prior.
You neither informed him nor did you let coworkers know about it. This is an open of our policies and we do not allow any employee to cross the limits. Every employee must follow the company's rules and regulations. This is a final warning to you to change yourself and start focusing on your job seriously. Dissension to it will result in the loss of your job.
#2
Please take this message as an official warning note for breaching the company's conventions. This has resulted in earning a bad name to company's reputation and we are concerned about it. We do not let any of our workers transgress our policies. For this reason, we are warning you to avoid such behavior in the future; otherwise, your job will be at great risk.
You were warned many times before to remain stuck to the rules but each time you ignored the warning. I hope that now you will give thorough consideration to this warning letter as after this there will be no room left for you. I want to see a good change in you after this.
#3
This is to bring to your notice that we have been observing your performance and found that you are constantly violating the company's rules. The real intention behind this is unknown to us but I am warning you through this letter to not repeat such an act. Your unprofessional behavior has put everyone in the company in trouble.
You need to bind yourself strictly to the company's safety policies and to continue your job with us you must abide by the rules. We are concerned about our employee's prosperity and we cannot put them in danger. Next time if you are caught breaching the rules then you will be terminated immediately. I am hopeful that you will not disappoint me next time.
#4
I am writing this letter on behalf of Mr. Louis, branch manager in ABC Organization to warn you about contravening the company's customs. Your coworkers have reported many times that your behavior is abusive towards them. Being an employee here, you must behave well with your colleagues. The company has strict policies concerning respect for each employee. If the matter reaches high officials then your future will be in danger and you will be terminated permanently.
You need to not indulge yourself in any activity that will result in severe consequences against you. I hope that from now on you will be a responsible employee and will comply strictly with the company's policies. If we ever get a hint of you repeating the same act then your journey will be finished up with us. I request you to not negate this message and take it seriously.