Invoices play a very critical role in a business. In other words, it is next to impossible for many businesses to operate without keeping track of the various specifics of the invoice. This is why companies keep relying on the reports that target the invoices that they issue to their customers and clients. One of the major aspects of the invoice that is often kept in mind is its age. By aging, the business usually refers to how long the invoice has been due. This is important information because it lets a business determine how to prioritize different invoices depending on their age.
What is an invoice aging report?
A business faces serious problems when there are so many outstanding invoices piling up. There is so much that goes wrong if proper care and attention are not given to the due payments. The invoice aging report is a document that is created to compile information about all those invoices that have long been due.
The main objective of this document is to make sure that receivables and payables are balanced, as these are the factors on which the health of a company depends. This report lets a business know that it needs to collect payments from different customers, which helps the business recover from the financial losses that it is facing due to the non-payment of various outstanding dues.
What are the benefits of using these reports?
A business has many benefits, due to which these reports are being extensively used. Some of the very common benefits are given below:
Identification of people who are late
There are many customers and clients of a company who are habitually late in making payments. If a company identifies them and takes the necessary actions, it can take the necessary actions to prevent late payments from happening in the future. The company can communicate with the customers and ask them to be quick in terms of making payments, as late payments also cause inconvenience to the customers. There can also be many schemes, such as payment in installments, that can be suggested to get the payment from the customers. However, this is only possible when communication takes place.
Management of the cash flow
Late payments can have a very disruptive impact on the health of the business as there is a lack of balance between the inflow and outflow of cash. To resolve this issue, it is important to make sure that all those who have yet to pay the payment come forward and fulfill their payment obligation. This is possible if a business keeps a check on this report and makes sure that it is fully aware of all the outstanding payments.
Analysis of the behavior
If there is anything that is happening according to the expectations of a company, it can think of making many such decisions that can help it reap fruitful results. For instance, if a business observes that there are frequent late payments from customers, it can take note of their behavior and then take some steps to prevent the situation in which the payment is late.
For instance, if customers are likely to pay late due to their past behavior, the company can set a shorter deadline and impose some additional charges that will convince them to pay on time.
Using a template
The report template is a simple document with several empty spaces that allow the user to fill them in and create his report. The data is taken from the database of the company where the invoices are recorded, and when all the empty fields are filled, the template provides a report that is ready to be analyzed.
A company has to hire accountants and some other professional individuals who can help them create this report. This often costs a lot. However, if a company uses the template, there will be no need to hire someone for this purpose, as the template does it very easily and seamlessly. It is very important to be careful while modifying the template. In other words, the data should be added to the template with care.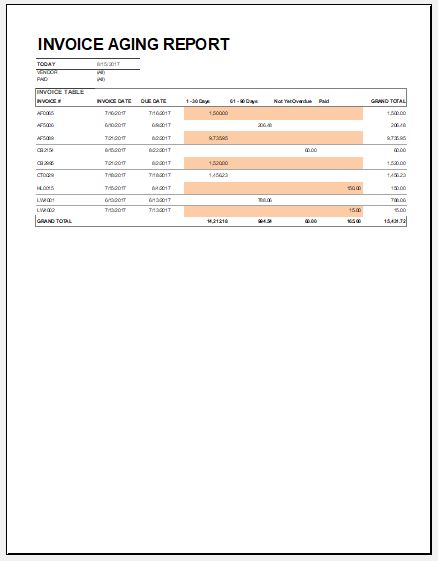 File: Excel (.xls) 2003+ and iPad 
Size: 31 KB