Managing accounts is one of the major parts of the business. It enables a business to ensure the liquid cash flow. Invoice Aging report is one of the main parts of the account management.
The main purpose of using the invoice aging report is to determine the source of the income and the type of customers of your business. With the help of this report, a business can get the information about the speed of the collection of account receivables. This aging report is primarily prepared to know the age of the invoices. It also lets you know about the time that it will take to receive your new transaction. The aging report also warns you about the unpleasant business performance.
If your account receivable collection rate is slower than the usual, the aging report gives you the warning signs that keep you alert. It also lets you know that your business is slower than normal because of which, your business is taking too many risks.
The invoice aging report template is a useful tool that enables the user to keep track of the account receivables. The due dates of the accounts can also be tracked easily using a template.
Benefits of the template of invoice aging report:
With the help of this template, the user can get the information about the outstanding dues of account receivables.
It enables the user to track the overdue money and the money which is being paid in the given time frame
The template for invoice aging report has been designed in such a way that you can insert a huge amount of data. The beautifully designed template never looks overcrowded with the data. The MS Excel format of the report includes two sheets.
The one sheet is for keeping the record of an aging report, and the other is for invoice details. Both of these sheets are inter-related to each other. The date of invoices and other details are organized in some rows and columns and are very easy to access by anyone.
Preview and Details of Template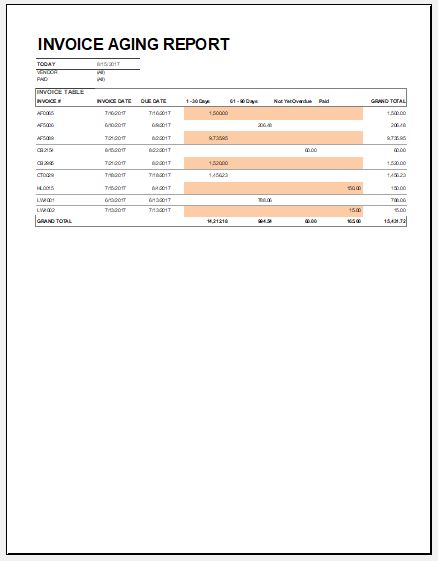 Invoice Aging Report Template -1
File: Excel (.xls) 2003+ and iPad 
Size 31 Kb | Download
License: ENERGY [Personal Use Only]