Maintaining the accurate record of the employees' attendance is very important. There is a proper system of putting the attendance so that the attendance remains accurate. Every employee in the company must put his attendance along with his arrival and exit time in the attendance log.
It is very important for every organization to keep track of attendance of every employee because many details are determined based on attendance such as calculating salary, determining the total number of leaves, deduction on salary on late arrival and a lot more.
Moreover, to calculate the total number of hours the employee has worked out of schedule, the attendance log can be very helpful.
It is the responsibility of the employee to put the attendance in a correct manner so that the attendance issues at the workplace can be avoided.
The employer has a right to write a warning letter to the employee if he is not putting his attendance correctly. It should be ensured before writing the warning letter that the employee has been given many verbal warnings.
Some employees put wrong attendance unintentionally while some do it for fraud and misconduct. No matter what the reason is, writing a warning letter is a professional approach.
Before writing this letter, it should be ensured that the company's policies are cleared and completely explained to the employee at the time of hiring.
The letter should be written in a professional tone. Keep the tone completely firm but rudeness is not recommended. The letter should conduct the formal tone of the manager. Here is a sample letter body to help you write a perfect warning letter.
Sample Letter:
It has been repeatedly found that you are putting wrong attendance in the company's attendance log. It is often seen that you do not provide the accurate time of your arrival and exit from the company. This type of mischievous behavior is not acceptable at all.
If you will not follow the terms and conditions of the company regarding putting attendance, we will have to take serious actions.
Regards,
HR Manager
Preview and Details of Template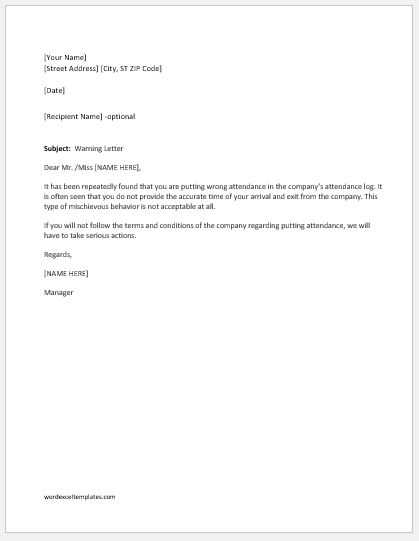 Letter Template
File: Word (.doc) 2007+ and iPad 
Size 32 Kb   | Download
[Personal Use Only]