Nowadays, thank you letter has been disappeared from human communication. People are busy texting and emailing one another that they hardly get time to write a few sentences of appreciation and greeting.  There are few times when a thank you letter should be handwritten as this shows a personal touch and an expression of appreciation
When writing a thank you letter for a personal gift a few things should be kept in mind.
Mention the gift name early and specifically in the letter
While writing a thank you letter does focus on the name of the giver of the gift
The gift and the giver should be associated in your thoughts as your thoughts matter a lot
Don't forget to describe the importance of the gift to you when writing a thank you letter for a personal gift
Describe your feelings attached to that gift and write your positive feelings associated with the gift
Once you received the gift, thank you letter should be sent in a short period of time that is within a couple of days. However, if you are late in sending this letter then mention a short apology in the text. After this continue with expressing your appreciation for the gift
Don't lie when expressing your feeling. If you don't like the gift, then you can simply gratitude the giver in the letter
Never introduce the total of monetary value in a thank you letter
Preview and details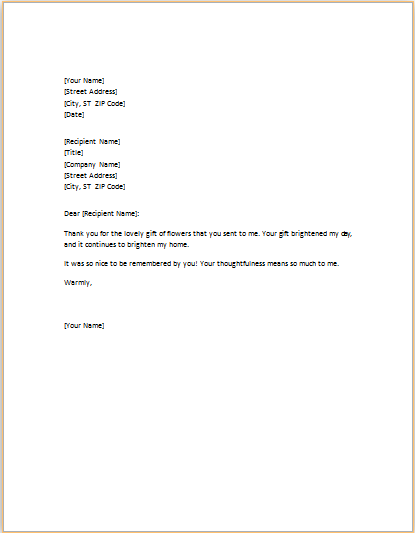 File: Word (.docx) 2007+ and iPad Size 28 Kb |
Download
---
More Samples
#1
My dear friend, hope you are doing well. I received a gift of a beautiful picture frame having a photo of you and mine. It is such a fabulous gift I have received. Really, I am so happy about getting this memorable gift from your side. Your present has made my day. I will place it on my bed's side table so that I start my day by directly seeing the beautiful present from the beautiful person in my life. The picture brought me back to our school days and even I recalled the day when our teacher took that photo. Thank you once again for such love and affection. Thank you for the card with wonderful words on it.
#2
Hi friend, how are you? I just woke up due to the bell on the door. When I opened the door and the courier service provider gave me a packet. I was surprised that from where I got the package. Now I opened the package and just jumped with happiness. I was not expecting such a wonderful gift. Even I forget the date and you remember that it's been 10 years that we are friends in fact like a sister. You always celebrate this friendship day and never forget to wish the special day of our life. This time the gift you have sent me is really wonderful. I am lucky to have a friend like you. I will always keep this beautiful handbag with me as it is the new bond between our friendship.
#3
Hi dear, how are you doing? I just received a packet from my warden. When I opened you can't believe I opened my mouth to say wow. It is really a beautiful wristwatch. I don't know how to thank you as I really need this these days as my old one is not working and I am not getting time to visit the market to buy a new piece due to an overload of exams. Thank you, my dear fellow, for sending me this gift. I like the care and affection you always showed for me. Thanks once again.
#4
My dear husband, I just received a ring which you have sent through your friend. It is such a wonderful gift that you sent me on the birth of our beloved son. I wish we can celebrate these moments together, but your job is important. I hope you get the leaves soon. I am happy about receiving a precious gift.  It really means a lot. Thank you once again for always showing love and care.
#5
My dear sister, I received a gift of a beautiful bracelet yesterday. I am sorry for messaging you late as today was my final exam and I was busy in preparing it. It is a beautiful gift that you sent to me. Even I have to wear them and going to my friend's birthday party. It perfectly matches my today's dress and suits my wrist. I am sending you a picture of my wrist with this beautiful bracelet. Thank you, my lovely sister.