A reference letter is written to introduce a person. The student reference letter explains the character, honesty, abilities, interests, and skills of a student. The letter is commonly used in a situation where the character of a student is being assessed. It also confirms all the details about the circumstances of an individual.
A student reference letter can be very beneficial for both admissions committees and scholarship award authorities in the process of decision-making. When students need to get admission to the desired colleges, the reference letter will be worthy of them, as it will give them an extra point.
The student reference letters usually come from teachers and counselors, as they are the people who are more familiar with the student. These letters are personal. When writing a reference letter, make sure that all those projects and assignments are covered in the letter that a student has completed. Contact information should be mentioned in a reference letter so you can get a call or message on selection.
The student reference letter should include the school's address, a CV, and the name of the person to whom you are writing. It should also include your department, the school's email ID, and your phone number. A student's personal statement should also be attached to a reference letter. It must be sealed with the school stamp. Otherwise, write your name and the date on the envelope.
Sample Letters
#1
I hope this letter finds you well. I am writing this letter to formally recommend Mr. ________ for the foreign scholarship at XYZ University. He has been a hardworking student at ABC Institute and has made his name on the list of the best students at the institute.
I have been his school teacher for a decade, from __/__/__ to __/__/__. His remarkable achievements do not need any recommendations because he is extremely talented and hardworking. He has never been afraid of taking on challenges and proving his intellect time and again. In addition to his exceptional record, he is a highly obedient and humble student who has received appreciation from all his mentors. Very few students have the zeal to learn more and gain knowledge and experience, but he proved all these theories wrong.
I am sure that he will be the best candidate for this scholarship, and you will never regret this decision. He has my highest recommendation.
#2
It is to certify that Mr. _________ has been an incredibly amazing student during his course of MS from __/__/__/ to __/__/__. For more than 2 years, I was his supervisor at XYZ University.
He completed his research in due time and made remarkable progress during this period. He is extremely intelligent and hard-working and gets things done. I have seldom seen students who maintain their integrity during research and keep going because research work takes a toll on you and can manage to make you surrender. But he came out with flying colors and represented his work with good evidence.
As he pursues his Ph.D. overseas, I wish him good luck. I am sure that he will be able to prove his exceptional record and make significant contributions.
#3
I am writing this letter to enthusiastically recommend Mr. _________, whom I had the pleasure of supervising for a period of 3 years from __/__/__ to __/__/__. It has been a rollercoaster ride to defend his thesis.
He is extremely talented and capable; otherwise, it is not easy for research students to complete their work so soon. He has shown great behavior and has also taken part in extracurricular activities. He is admired and appreciated by all his teachers and peers alike. Hard work is a key that can lead you to an amazing destination, and I believe that he would excel in his field because he has the extreme urge to gain knowledge.
I assure the administration of ABC Institute that he would be the perfect candidate for this scholarship, and he will prove himself in the future through his significant contribution.
#4
I am writing this letter to recommend that Mr. ________ has been an exceptional student during his high school years. I taught him for a good period of eight years and witnessed his remarkable qualities.
He has a zeal for learning, be it skills in language or any other art. He is incredible with his behavior and manages to make everyone around him happy. He takes home tasks as a challenge and does not settle until he completes them. He has always been a healthy competitor and wants everyone around him to strive and achieve their goals. As he pursues foreign universities for higher education, I wish him good luck and hope that he finds the right people who will acknowledge his work and enthusiasm.
#5
I am writing this letter to recommend my brilliant student, Mr. ___________, for a PhD scholarship at XYZ University of Italy. He has been a remarkable student throughout his academic years.
During his MS research work, he has worked tremendously and left no stone unturned. His research work was appreciated by all faculty and administration because he managed to perform his experiments under the supervision of amazing mentors at various institutes. His research data is the best example of his hard work and enthusiasm. Along with his academic duties, he also took part in the annual sports festival of our institute and contributed brilliantly to the overall win of his team.
I assure the administration at XYZ University that he is the most deserving candidate for your scholarship, and he will prove himself during his coursework. Awarding him this scholarship will never be regretful.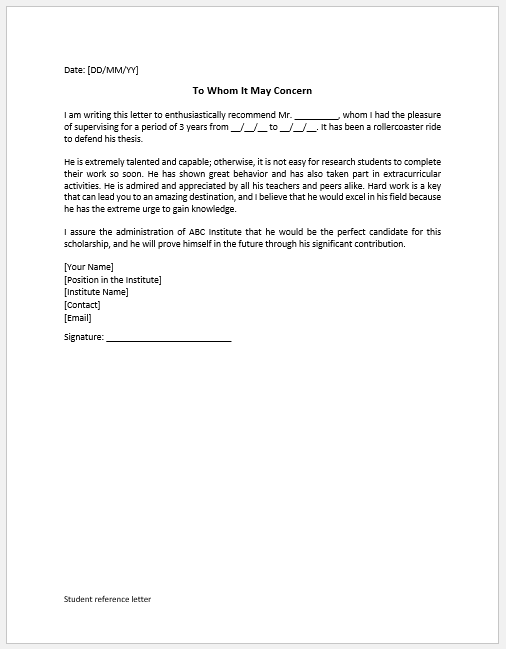 Sample Letter File: 49 KB