When a letter is written to the seller by the buyer appealing him to cancel the order or not to deliver the ordered goods then it is called order canceling letter.
The buyer places an order to the seller for delivering the particular goods to his address. Once the order is received by the seller, he immediately delivers the goods to the buyer. Any delay in delivering of goods can cause the buyer to do his business anywhere else. It may be possible that the buyer is unwilling to get the delivery of the goods after placing his order. In this situation, a letter is written by the buyer for canceling the placed order to the seller. This letter is known as 'order canceling letter'.
The information which should be included in the order cancellation letter is
The customer's name
The date of placing the order
The order number of the particular item which needs to be canceled
The list of the items need to be canceled
The list of the items should include the color, quantity, size and inventory number
The specific time, the cancellation should be completed
The cause of cancellation
An appeal of written confirmation of cancellation
Copies of invoices, receipts or purchase orders
For the convenience of people, our website offers a complete format of the order canceling letter.
Possible reasons to write order cancellation
If the buyer wants to discontinue his business
If the seller fails to deliver the quality goods
If the seller fails to deliver the goods at a particular time
Preview and details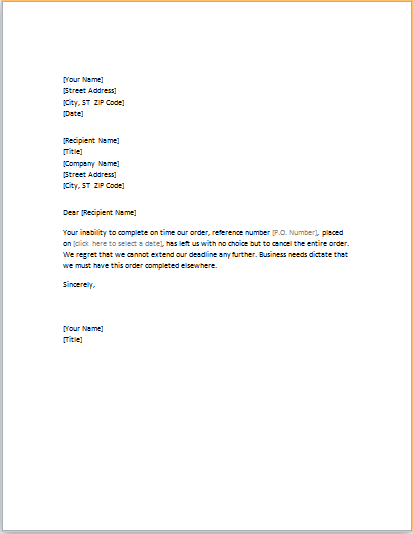 File: Word (.docx) 2007+ and iPad Size 24 Kb |
Download
---