What is a suspension letter?
A suspension letter is a kind of disciplinary procedure that is carried out in any organization to maintain discipline. An organization needs to maintain discipline when it wants to grow and flourish. However, sometimes it seems like a challenge because some people don't behave well. This leads to a surfeit of problems. To deal with them, a suspension letter plays its role.
By suspension, an employer means to remove a particular employee from his position due to the kind of misconduct he has been involved in. The suspension letter is different from the termination letter in the sense that when a company needs to remove the employee from his post temporarily, a suspension letter is written. A termination letter means terminating the employment of an employee permanently.
When to write the suspension letter?
Different situations that necessitate the use of suspension letter are:
When the misconduct is minor and can be corrected, the letter of suspension is written.
Some employees are quite senior in the company and based on their seniority, the company often does not want to terminate them. So, they can be given many chances so that they can stop their act of misconduct.
When an employee performs well and is playing a major role in the growth and prosperity of the company, the company cannot afford to let him go. The suspension letter can make things better.
When it is already mentioned in the employment contract that the company can only suspend the employee upon minor misconducts and the company cannot afford to get into legal disputes, the suspension letter is the best option.
What are the benefits of the suspension letter?
Some people think that writing a suspension letter when someone commits misconduct is useless since the guilty person returns to work and does not show any kind of behavior change. However, this is not the case. Let us discuss a few benefits:
They help in behaviour management:
Managing the behavior of employees in a business is better than terminating them from the job. When a person is suspended from his job, he feels embarrassed. Therefore, it is more likely that he will return to the job with improved behavior to prevent this from happening again. Furthermore, the employee knows that the next step of the company will be to terminate him. So, it becomes necessary for him to correct himself.
They show firmness:
When a company takes strict actions against one employee, all other employees feel that the company is firm in its policies, and therefore, they also need to be wary of their actions.
There is a sample letter of suspension of an employee who was seen showing misconduct at the workplace. This sample letter will help you write an effective letter that looks like a professional piece of writing.
Sample suspension letter due to misconduct:
Date:
Employee name
Address and contact details
Subject: suspension due to misconduct. 
Dear Mr Robert,
I am writing this letter to you to inform you that as a result of your actions on 28th April 20XX, the company has issued you a suspension for two weeks. You have been found drinking on duty. The effective dates of this misconduct are 25th February, 28th March, and 28th April. You are expected to return on duty from 25th May 20XX. The company has conducted a thorough investigation on this matter and then concluded to suspend you from your job.
You were seen on said dates stumbling. You fell in the corridor and other colleagues helped you reach your desk. Next time, you were seen drinking.
You were given many verbal and written warnings. You were also told that if you did not correct your behavior, strict action would be taken against you. 
I would like to reiterate here that you must behave well. A meeting will be arranged with you once you return to the company.
In case you want to appeal against this decision, you have a right to do that.
Regards,
Name of the sender
Signatures of the sender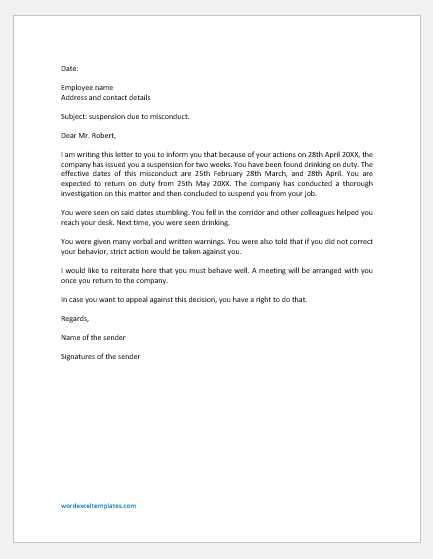 File: Word (.docx) 2007+ and iPad
Size 21 Kb
Download