You already know that every business, company and the organization wants to be known. For the purpose of recognition and publicity, corporations fund local activities, events and charity causes etc. Some people, when they wish to arrange an event but lack funds, request big corporations to assist them. Letters that are written to seek that funding are called sponsorship letters. At the end of the event, sponsors are paid public thanks or otherwise throughout the event their advertisement is done in some form. This helps the organizations to advertise themselves through funding the events.
At other times, sponsorship letters are written in order to seek support for one's academic career, for scholarship, course or a workshop. Writing sponsorship letters require the same care that donation letters do. Because remember that in both cases, the funds you'll receive will be a volunteer giving most of the times. The least that the sponsor would want is public thanks so they want to make sure they're sponsoring the right cause, investing at the right place. It's tricky to write sponsorship letters. You need to make sure that your letter is convincing enough that it will bring you the required funds. For that, here are some useful tips:
Begin your letter with a proper introduction of your organization and yourself.
Introduce your cause and how it is supposed to benefit people.
You have to mention about your cause in detail highlighting its positive outcomes and how it can benefit the sponsor. This part is to convince the reader that if he sponsors, he will be investing in the right place.
Since you're requesting, let your tone be requesting and humble. Using authoritative and arrogant tone will only bring you're a thumb.
Don't forget to attach a sponsor letter form with your letter.
To make professional looking sponsorship letters, you don't have to brainstorm much. We have some samples that will make it easy for you. Check out our sponsorship letters and enjoy receiving loads of funds next time.
The letter includes
I am [enter your name and title] from [enter company/organization]. This letter is to inform you about the event that we are organizing at the end of this year on [enter month]. The event is about [enter description]. We have already been doing such kind of events in the past and they went super successful. This time, the event is relatively large so we are inviting more sponsors. This letter is to invite you to sponsor us for this event, the details of which have been mentioned above and the rest of the event details and sponsor descriptions are mentioned in the documents attached with the letter.

I also want to inform you that we'll be doing a formal thanksgiving session for all our sponsors at the end of the event and will also advertise their organization/company by making their mention on our flyers and banners.

You are requested to please inform us by [enter date] if you are interested in sponsor.
Preview and Details of Template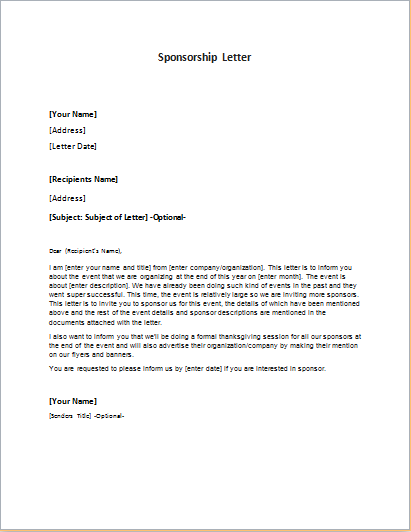 Sponsorship Letter Template
File: Word (.doc) 2007+ and iPad 
Size 28 Kb   | Download
File: OpenOffice (.odt) Writer [Writer]
Size 11 Kb   |  Download
License: ENERGY  (Personal Use Only)
(Distribution) by Kate Elizabeth(CEO)