Notification letters are serious letters that are used to notify someone about something important, formal, or legal. The letter is not meant to warn the recipient but only to inform or notify him about a serious matter. Notification letters are different from warning letters.
A notification letter can be used by employers to notify their employees, by courts to notify the relevant parties involved in a proceeding, by landlords to their tenants, by businesses to their customers, etc. They are used for different purposes.
For example, discipline notification, absence in court hearing notification, truancy notification, eviction notification, etc. Usually, the format of all notification letters is the same. Here is a little more about notification letters.
Notification letters are usually written in business letter format. Sometimes, the notification letters are also written in email format.
Unlike many other letters notification letters are short and concise.
The sender should add his signature or stamp in a notification letter.
One should avoid using harsh language in the notification.
If a response is required, the recipient should be told within the letter to submit a response by the given date.
If the notification is an official notification it usually contains the company's logo on the letterhead.
A notification letter should end with decent salutations, requesting the recipient to consider it.
If you don't know how to write notification letters, no problem; it is never bad to learn from examples. We are here to assist you to learn some notification letter formats and styles. Check out our samples and by looking at a few, you'll be able to draft your own. If you find it difficult to write a formal letter, just modify our given samples and use them. Eureka!
#1
Notification for meeting
You are duly informed that a meeting will be held today at 1 PM with our Senior Manager, Mr. XYZ. He wishes to discuss our team's progress on the ABC project. You are requested to be present in conference room 3 at the mentioned time.
Please respond to this email to acknowledge the notification.
#2
Notification for shift change
This is to inform you that your evening shift for tomorrow has been switched to the afternoon shift. You are now supposed to cover for XYZ who has taken leave from work owing to a family emergency.
The duty schedule for the next 2 days has been altered. Please refer to the attachment for the revised schedule. Inform your supervisor promptly if you have any issues with the modified schedule.
#3
Notification for employment
The management would like to remind you that your tenure with the company is coming to an end as you complete 20 years of service with us. Your official retirement date is 12th March 20XX. You are requested to complete all the clearance formalities during your remaining two weeks at the office.
Kindly contact HR for further information and queries.
#4
Notification to staff for discipline
This is to notify all employees that the management will be taking action against anyone who does not observe discipline at the office. You are advised to go through section XYZ of the company's policy regarding our code of conduct and discipline. Employees who do not abide by the company's rules in the future should be prepared for appropriate disciplinary action.
The management expects a positive response from the entire staff after receiving this notification.
#5
Notification for frequent absenteeism
This is with reference to your frequent absenteeism from the office this month. It has been affecting your productivity and has caused a delay in the submission of our monthly XYZ report. In case you are unable to make it to the office due to personal issues, you are advised to work from home. Alternatively, ask one of your team members to fill in for you and complete your daily tasks on your behalf when you are on leave.
The management offers its complete cooperation regarding the issues you are facing regarding childcare. However, we cannot afford to compromise the quality of the work. Kindly come up with an appropriate solution regarding this matter.
#6
Notification for an event in the office
All staff is hereby notified that our annual staff dinner will be held on the 16th of February. Employees are encouraged to attend the dinner with their families.
Contact HR for more information.
#7
Notification for closure of the branch
The Head Office management regretfully announces the closure of our XYZ branch. The company is facing a financial setback and can no longer afford to operate the said branch. The XYZ branch will officially wind up all business by the 30th of May.
The company will be compensating the staff with two months' salaries. We encourage all employees working at the XYZ branch to look for new opportunities. We thank you for your service and are most regretful of your predicament.
#8
Notification of the shortage of supply
This is to notify you that we are facing a shortage of printer ink that is usually supplied to us from Lahore. Due to recent floods in the area, transportation difficulties have delayed the arrival of our fresh supply. Employees are therefore instructed to confine the use of the office printer to only necessary tasks. You shall also need the approval of Mr. XYZ for any printing activity.
Please note this restriction is only temporary till the roads are clear for the arrival of our fresh stock.
#9
Notification for urgent demand of material
We urgently require (specifications) for our ongoing building project in Islamabad. The quantity required is (details). You are requested to confirm if you can supply us with the material by the 22nd of this month.
Please send your response by the earliest.
#10
Notification for no day off on (date)
All employees are hereby instructed to attend office on the coming Friday, 25th of January. As informed previously, the inspection team will be visiting our branch from the Head Office. Your attendance is mandatory and no request for leave on the mentioned day shall be approved.
You are all expected to follow the given instruction.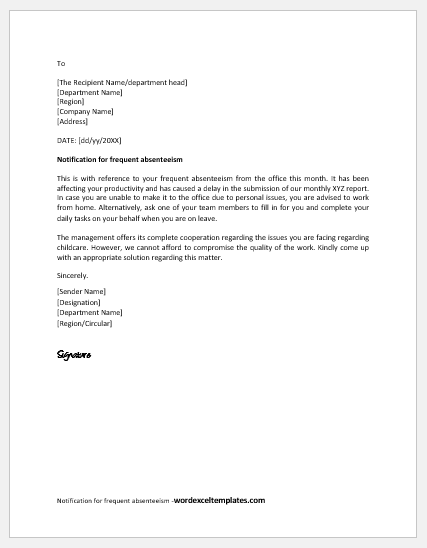 Sample letters…