You'll have to verify your identity or status at many places especially in the professional life. Verification letters are used to confirm a person's status, affiliation or background. They can be of different types. For examples, an ex-employer might write a verification letter for his employee to confirm his working background or a college or university might provide academic verification documents for their students. Verification letters might also be issued by courts to verify marital status of a person, by a government to verify his citizen's citizenship etc. So basically verification letters are of a diverse category. There is no single universally acknowledged sample to be used for all types of verification purposes. The format of the letter remains business letter format but the body of the letter and the strategy of the letter changes according to the spheres where it is being used. But here's something we can tell you about verification letters.
I'm sure you know that writing verification letter is a responsibility. Never give anyone an undue favor by writing undue verification letters for them.
Introduce yourself and your organization to the reader so that he may know who is verifying.
Always add your contact details in a verification letter, so that if the recipient wishes to contact you any further for confirmation, he may do so.
Remember it's a verification letter and not a praise letter. Don't go out of the way in giving character attributes of your employee or the person who you're writing for unless it is a character verification letter. The recipient of letter primarily wants verification of the person's work or academic background in most cases.
Verification letter is among one of the shortest business letters. Remain concise and to the point.
If you're an employer or a person of authority, you must be vexed by the daily requests for verification letters. With a tough schedule, writing letters of verification for no. of individuals, that too for different purposes isn't easy. We understand your problem and therefore have designed a wide range of verification letters for instant use. Below is a sample that you can follow to write your verification letter.
To Whom It May Concern

I am [enter name and title] from [enter company/organization]. This letter is meant to verify the employment of Mr. [enter name]. I verify that Mr. [enter name] is working at my office as [enter title]. He joined the company in [enter year/month/date]. His employment type is permanent and full-time while his current salary package is [enter amount]. His major duties include [enter description].

On the basis of the above-mentioned details, I request you to consider this verification letter in his favor. For any confirmation, I can be contacted at this phone number, 123-4567-8901 and can be reached at this address, [enter address].  

Thank you! 
Preview and Details of Template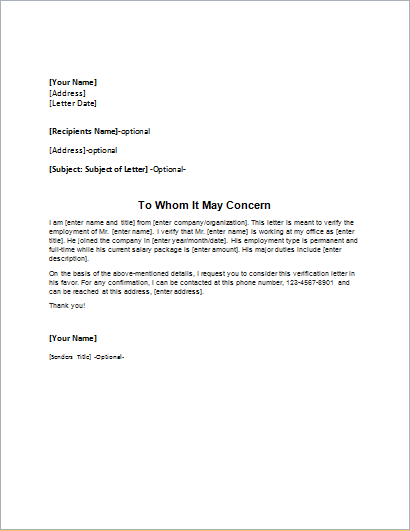 Verification Letter Template
File: Word (.doc) 2007+ and iPad 
Size 27 Kb   | Download
File: OpenOffice (.odt) Writer [Writer]
Size 9 Kb   |  Download
License: ENERGY  (Personal Use Only)
(Distribution) by Kate Elizabeth(CEO)