Clients have some rights. They're also valuable since they are the ones because of whom businesses and services run. Clients pay for the services that are given to them hence it is a client's due right to complain if he finds himself unsatisfied with the services given to him.
Service providers receive complaints often. Receiving a complaint is nothing new to them but how a client writes his complaint matters a lot. For services like laundry, you'll have to face the same service providers again if you don't find any other in your vicinity. The letter should remain a decent letter so as not to affect your relationship with the service providers as a client.
Since professionals use a professional style in whatever they do. A common man who encounters business people should also act like a professional mainly due to two reasons;
To be recognized as a civilized customer/client
To make his her complaint effective and leave impression
When writing a complaint letter for laundry services follow the given tips;
Try to follow business letter format
Keep the tone decent
Explain your complaint in detail
Tell the recipient what you expect from him
You may not feel like appreciating the service providers in a complaint letter but this is also what they need. Some appreciation! So, close your letter by appreciating the prior services and rewriting your current complaint.
You might be a person who has never written any professional letter and want some help in writing a complaint letter for laundry services. Find a sample given below to get an idea of how your complaint letter should look like.
Preview and Details of Template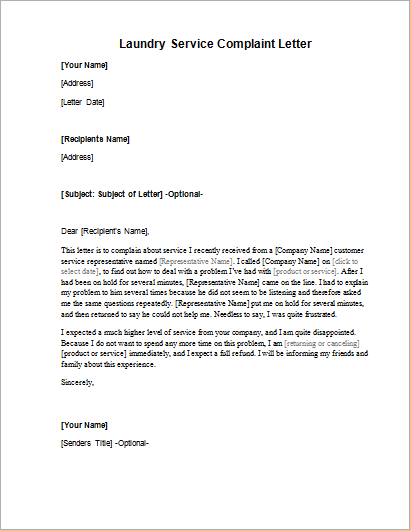 Laundry Service Complaint Letter
File: Word (.doc) 2007+ and iPad 
Size 36 Kb   | Download
File: OpenOffice (.odt) Writer [Writer]
Size 11 Kb   |  Download
License: ENERGY  (Personal Use Only)
(Distribution) by Kate Elizabeth(CEO)