Clients have some rights. They're also valuable since they are the ones because of whom businesses and services run. Clients pay for the services that are given to them hence it is a client's due right to complain if he finds himself unsatisfied with the services given to him.
Service providers receive complaints often. Receiving a complaint is nothing new to them but how a client writes his complaint matters a lot. For services like laundry, you'll have to face the same service providers again if you don't find any other in your vicinity. The letter should remain a decent letter so as not to affect your relationship with the service providers as a client.
Since professionals use a professional style in whatever they do. A common man who encounters business people should also act like a professional mainly due to two reasons;
To be recognized as a civilized customer/client
To make his/her complaint effective and leave an impression
When writing a complaint letter for laundry services follow the given tips;
Try to follow the business letter format
Keep the tone decent
Explain your complaint in detail
Tell the recipient what you expect from him
You may not feel like appreciating the service providers in a complaint letter but this is also what they need. Some appreciation! So, close your letter by appreciating the prior services and rewriting your current complaint.
You might be a person who has never written a professional letter and want some help in writing a complaint letter for laundry services. Find a sample given below to get an idea of how your complaint letter should look like.
Preview and Details of Template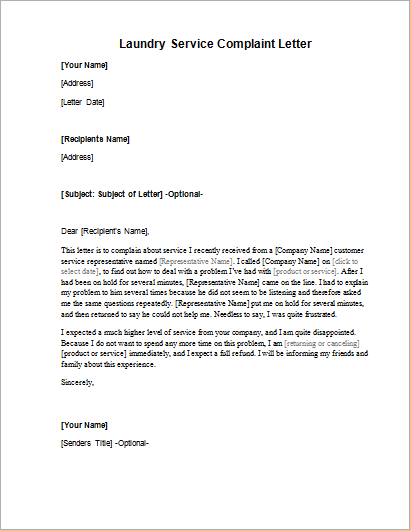 File: Word (.doc) 2007+ and iPad 
Size 36 KB
#2
Re. Laundry Service Complain Letter
Dear Mr. [name],
I am [Name], a resident of [mentioned your exact Address, including apartment no. and floor] in [Name of the building]. I have been using my friend's private housing laundry services since I shifted to this building. I started using this building's laundry service last month. I use the laundry service once a week on each Sunday. 
For approximately two weeks, I have been confronting various issues in the laundry service. First, most laundry machines need to be more rustic and updated. It takes a very long in using them. Most of the machines are out of order, and the rest of them do not work correctly. They make a lot of noise while running.
Another problem is the limited working hours of laundry service. Laundry service is open from 11 AM to 3 PM only. The building has more than fifty apartments. Almost all the residents use this laundry service. More users and less machinery with limited time cause trouble in the time frame of using laundry services.
Therefore, I request you update your laundry services. The building residents pay monthly taxes for the services, including laundry services. Please update the laundry service by replacing the rustic machines with new machines.
Also, please update the working hours of the laundry service. It becomes very jam-packed on weekends and causes a huge rush and mess. Please revise the schedule of the opening hours of the laundry service. You can also ask the other building residents to confirm what has been requested.
I shall be grateful. Thank you.
Regards
[Name]
[Address]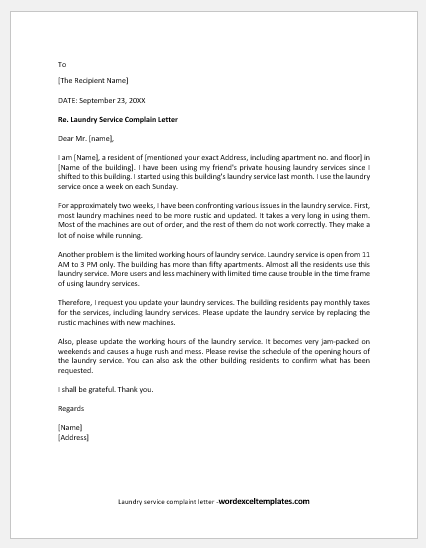 #3
Re. Complain Letter for Poor Laundry Service
Dear Manager,
This letter has been written to complain about the poor services experienced at your laundry point. I have been using your laundry service for many months. In the beginning, I found quality service at your laundry service. The company's rider picked up my clothes, which were delivered to me the next day after washing, ironing, and dry cleaning.
The company ended its pick-and-drop service last month due to a shortfall of resources, but the charges remained the same. However, I never asked for compensation or a discount due to sound quality. Recently, I have been faced with trouble with laundry services at your company.
Following are the issues I have faced in two weeks of laundry:
Holes in my sweaters
Shades of red color on my plain sweatshirts
Holes in my carpet
Irritating odors of washers
Threads coming out of wool clothes
Excessive bleaching
Use of less detergent for cleaning more chemicals
I faced these issues in previous weeks in your laundry services. You are requested to address the issue at your earliest. If these issues are not addressed, I shall repudiate my membership in your services. Also, I request compensation for the loss caused to my fabric and carpet. I have attached images of fabric damaged in your laundry service as evidence.
I shall be grateful to you if you do the needful. In case of any queries, contact me at [phone number]. Thank you.
Regards
[Name]
[Residence]
Attachment: five images in IMG format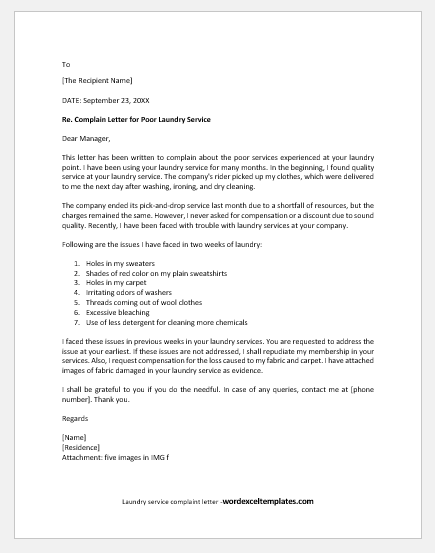 More letters…