Security ID Badges
Everyone wants to live a free life where they can go wherever and whenever they want. No one wants to live a life full of restrictions. For this reason, security is very important. People prefer going to malls where they can feel safe. No one wants to go to a public place with poor security conditions. For this reason, security guards are very important. They might seem to be not very important to us, but they do play a very vital role for the public at large.
Although a security guard plays a lot of important roles his major duty is to control crimes. Some people, especially youngsters like breaking laws for the sake of fun. This is where security guys come in. They know how to make sure that laws are followed by everyone. Security guards can work in offices, malls, corporate buildings, and even in train stations.
A security person is responsible for looking inside and outside, both aspects of his job. He needs to be all eyes on every person and their activity. They must be very alert to the system alarms and even people acting suspiciously.
Security guards are trained for emergency situations. They know when to call the police and the ambulance if needed. They even should prepare logs of any theft or stolen equipment.
Besides theft, security guards also make sure that no unauthorized person gets entry into a residential or corporate building. For some businesses, their confidentiality and data protection is very important. Guards make sure that they give access to only the required people in the building.
Life is one of the most important assets that we have. Guards protect our life from dangerous life-taking criminals. This is the most important task of a guard.
About Template
Security companies train their guards before they start working in real-time. Once, they are trained, they are placed into jobs. We will always see a security guard wearing a photo ID badge. This ID badge is provided by the security company and is an indication that the person is a qualified authentic guard. His identity makes it easy for people to approach them.
If you are in need of preparing a photo ID badge for you then you are in right place. Following are given security guard/officer photo ID badge templates for MS Word. DOWNLOAD and customize the badge(s) in no time to make it your own.
Preview and Details of Template
1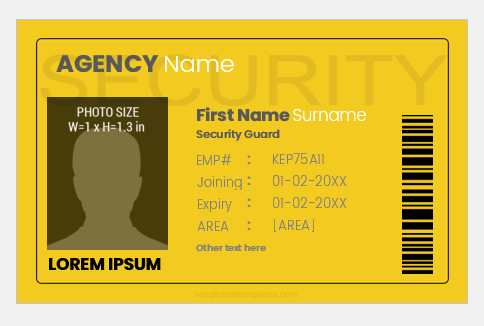 2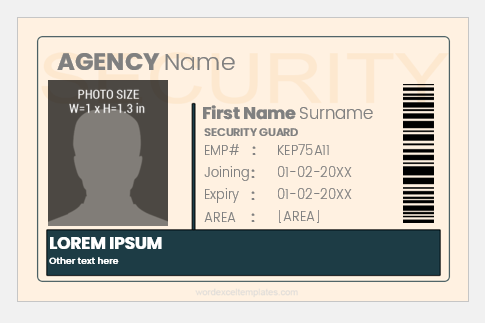 3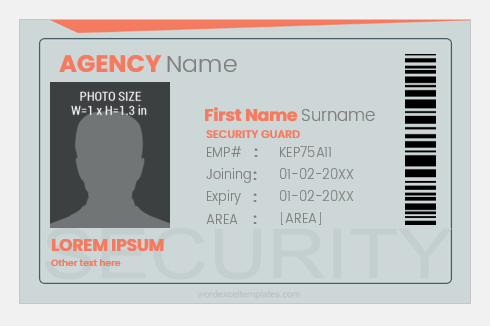 4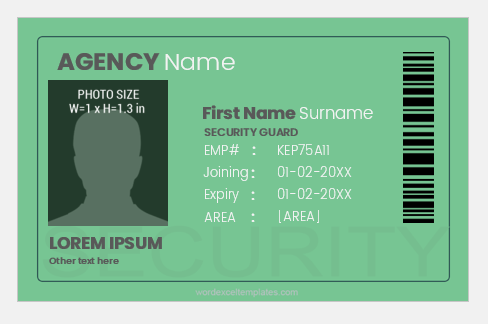 5