The travelers prepare travel expense statement after estimating the costs that are expected to occur while traveling. The travel statement is usually prepared in MS Excel sheet. However, you can also get a ready-made template for saving your time.
What should be included in travel expense statement?
The travel expense statement includes the record of the expenses during travel such as the expenses of transportation, food, etc. The statement can also include the amount of fuel used by the employee, supplies that the employee has purchased, expenses on meetings and conferences, etc.
If the employee has taken advance payment, it should also be mentioned in the statement because it will be subtracted from the total amount to be reimbursed.
Although the occurrence of expenses while you are traveling, is common. However, in most of the businesses, the employee is required to be reimbursed by the company after showing the expense statement.
Uses of travel expense statement:
A travel expense statement is useful when you want to get an accurate estimate of the cost. This statement also ensures that the person will avoid the mistakes regarding expenses.
It can be a useful tool for all those people who suffer from poorly managed budgets. It ensures that all the expenses are known, and there are least chances of going out of the budget.
A travel expense statement's length can vary from business to business. The list of each item to be used while traveling and a brief description of these items are included in the statement.
To make this statement more comprehensive, you can separate each item of the statement into different categories.
Travel expense statement template:
A template for travel expense statement can be used if you want to save your time. It serves as the best budgeting tool and can be used for some other personal budgeting tasks. The template is present in MS word and Excel formats, and you can print it whenever you want. If you think there should be some details specific to your travel expenses, you can easily edit this template.
Preview and Details of Template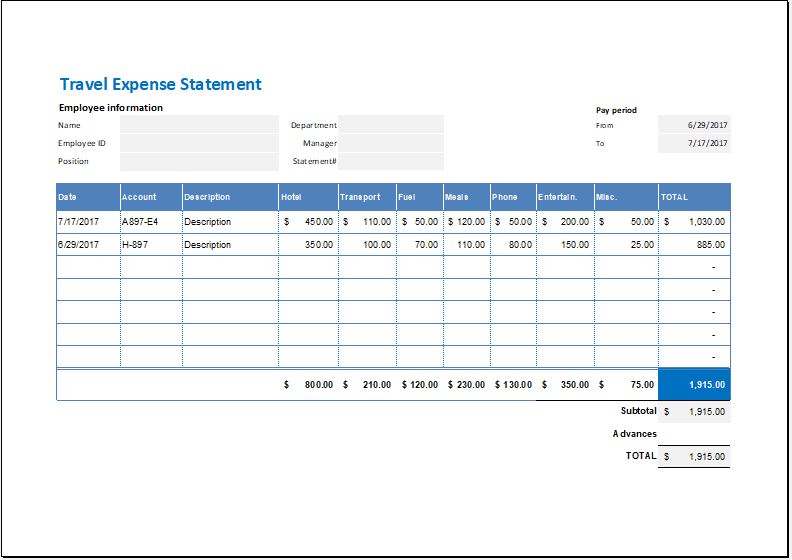 Travel Expense Statement Template
File: Excel (.xls) 2003+ and iPad 
Size 222 Kb | Download
License: ENERGY [Personal Use Only]