Shopping is the best feeling for most of the women in the world. And not just women, who don't like shopping?. Be it sales season or the normal prices, shopping brings fun and peace in our life. Although, sometimes we might feel guilty buying those extra pairs of shoes when we don't really need them. But whatever the reason, shopping has a lot of positive effects on our health.
Believe it or not, shopping is a good way to boost our morale. When we are passing by our favorite shop and we see beautiful dresses, we are enticed to try them if not buy them. And we tend to try things out, we might even end up in buying them. Shopping is a good exercise. Going around from shop to shop, looking for that exact color helps us reduce our weight and have a better understanding of the prices. So, shopping helps you lose more calories rather than becoming a couch potato.
How much we stock things, we always need more things for our closet and for our homes. Shopping makes you more social. When you go around, you always meet more people. You can also take your best friend out for shopping with you.
Christmas is an event for which people start preparing in advance. For special events such as Christmas, the best tip for shopping is to prepare the shopping list in advance. Christmas is a festival of togetherness where people prepare the best recipes, decorate their homes and light their windows and trees. With so much to do, there has to be a lot more to buy.
A list makes it easy to remember everything. A Christmas shopping list provides you with a disciplined approach to do shopping. The economy is in a crisis and in these timings, it is very important to shop in an organized way. A Christmas shopping list will not only save your money but it will also save your time and effort. Christmas list helps you not forget anything and at the same time, it also welcomes the input from others. Your kids and your spouse can have their own things to buy. A Christmas shopping list will help you prioritize as to what is needed and what is not required.
Preview and Details of Template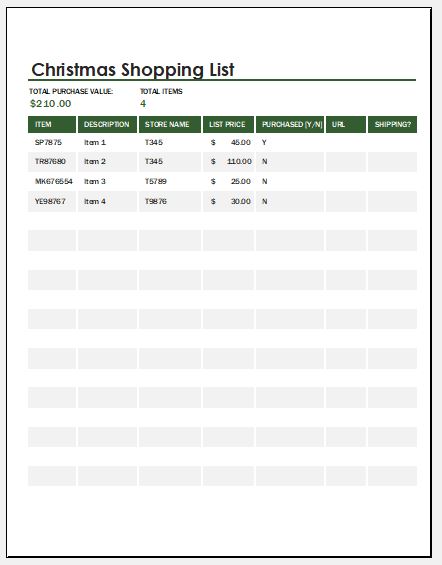 Christmas Shopping List Template
File: Excel (.xls) 2003+ and iPad 
Size 222 Kb | Download
License: ENERGY [Personal Use Only]