A peaceful environment at the office or company always enhances the output of the employees. A little appreciation boosts the motivation level of the employees. But, on the other hand, taunting and humiliating not only cause diligence but also lowers the output level of the working staff.
It is obvious that the humiliating behavior of the boss directly hits the self-respect and affects directly the self-esteem. It also diminishes the positive attitude towards the job and keeps the individual mentally disturbed. Despite all, employees always first try their level best to sort the matters. But, in the end, the employee who is a victim of humiliation is compelled to resign from his/her job.
A resignation letter due to humiliation is a document written by an employee to present to the boss when he is confirmed to be humiliated for an act which in otherwise case could be dealt with politely.
In the following cases, one can put resign from his/her job due to humiliation.
When the employee is holding a post or designation and s/he is insulted in front of their subordinates.
When the employee is not provided with the sanctioned respect, authority, or honor or is always degraded.
When efforts are disregarded despite hard work and diligence.
Hence, all these scenarios can lead to a serious situation. The letter should be constituted in such a way that the most attributed factors leading to humiliation should be added first and the minor factors should be written after that. This letter should be clear and understandable. The problems and issues faced due to humiliation should be highlighted in detail. The date, relevant names, and signatures should be included.
Sample Letter
I am writing this letter to elucidate to you my decision of leaving the company. This letter serves as my official resignation letter.
The definition of constructive criticism does not include an insult in public. You need to correct your dictionary and definitions.
On Thursday [DATED], you behaved in such an insulting way that even after trying hard I am unable to come out of that situation. Being a boss, you must have an idea of how to treat your employees even if they do not fulfill the criteria of your expectations. You have no right to insult your workers in public as you don't own them for the sum of money you give in return for their tireless efforts.
Thanks for giving me a lesson that many books remained unable to give a grounding in me.
Preview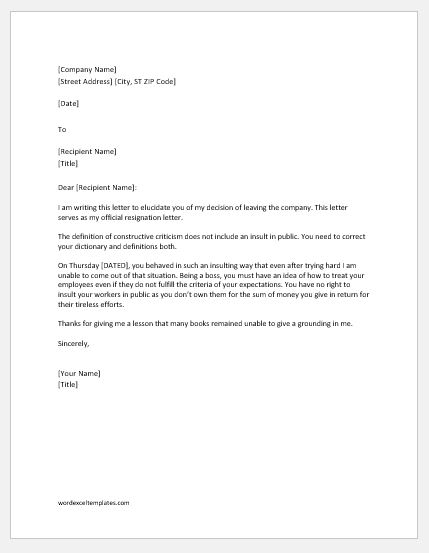 2-
I hereby submit my resignation with a notice period of 1 week. I have been working in this prestigious organization as an Assistant PR officer since 20XX. I have been serving the company with dedication and sincerity. However, my immediate manager, Mr. XYZ has always been short-tempered with me. I cannot tolerate his demeaning behavior anymore. For this reason, I have decided to quit my job.
I have been great with clients and have maintained our company's PR. My interpersonal skills have often been appreciated by my colleagues. However, Mr. XYZ has never appreciated my performance. On the contrary, he creates a big deal about the slightest mistake that might accidentally happen. His lack of patience is unbearable for me. He has been verbally bashing me in front of my coworkers as well as our clients. I can no longer continue to work in such a humiliating environment.
I am thankful to the company for providing me with the opportunity to work here and enhance my professional experience. I wish continued success for the organization.
3-
I hereby present my resignation with immediate effect on the 1st of September 20XX. I have been working as the Senior Clerk at XYZ for the past 5 years. I am dismayed at the behavior of the Manager, Mr. Mezo this morning who humiliated me in front of the office staff for being 30 minutes late to work despite a valid reason. Regretfully, I cannot tolerate being disgraced. I am quitting without a notice period since I cannot work a single day at a place where I have no respect.
I have always been punctual to work and tardiness had never been an issue with me. I always perform my work duties on time without missing my deadlines. It is extremely unfair of Mr. Mezo to feel angry at me for arriving only half an hour late for the first time in 5 years. He did not even give me a chance to explain myself. As everyone knows, the heavy rainfalls these days have created havoc on the roads.
Today was no different and the roads were blocked due to poor drainage. Still, I somehow managed to arrive at work only 30 minutes late. Mr. Mezo should have been empathetic considering the weather conditions all over the country. On the contrary, he was furious and said really mean things to me.
Resigning from my job at this prestigious organization is a hard decision. However, I cannot continue to work here because of the manager's lack of respectful behavior.
I thank the company for the job opportunity.