An individual is evaluated always by the behavior. Behavior is the blend of personality and habits. A positive personality and good habits make an individual polite. A negative personality with annoying habits makes the individual rude. Thus, these all factors affect the way of talking. The way of talking is the matter of concern to the associated people.
In the workplace, the behavior advocate matters a lot. All the members of an organization from top to bottom really need to be polite and kind in behavior towards each other. The workplace has strict clauses related to manners and behavior.
Warning letter for using humiliation words is a document written by the manager or boss of a company for an employee who has used bad language or harsh words against a coworker. The action is strongly condemned as it violates the rule of using good language at the workplace.
If an individual is found using humiliating words, s/he is immediately served with a warning letter. This warning comprises of many situations like:
When employees use humiliating words for their colleagues just for the sake of fun.
When employees use humiliating words at the workplace because of personal grudges.
Sometimes meeting sessions lead to some disagreement of opinion. Hence, some employees use humiliating words by showing anger.
Thus, all these and many similar issues result in a warning letter. This warning letter contains the name, department, and position of the respective employee. It also contains the signature of the supervisor and Head of the department. The reason should be mentioned in detail. The last chance and the eviction matter could be included. The tone of the letter must be strict and formal.
Sample Letters
#1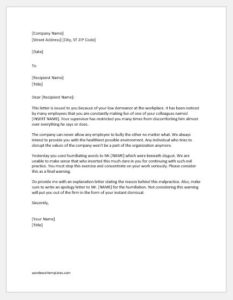 This letter is issued to you as a result of your low demeanor at the workplace. It has been noticed by many employees that you are constantly making fun of one of your colleagues named [INSERT NAME]. Your supervisor has restricted you many times from discomforting him almost over everything he says or does.
The company can never allow any employee to bully the other no matter what. We always intend to provide you with the healthiest possible environment. Any individual who tries to disrupt the values of the company won't be a part of the organization anymore.
Yesterday you used humiliating words to Mr.[NAME] which were beneath disgust. We are unable to make sense that who inserted this much dare in you for continuing with such evil practice. You must stop this exercise and concentrate on your work seriously. Please consider this as a final warning.
Do provide me with an explanation letter stating the reason behind this malpractice. Also, make sure to write an apology letter to Mr. [NAME] for the humiliation. Not considering this warning will put you out of the firm in the form of your instant dismissal.
#2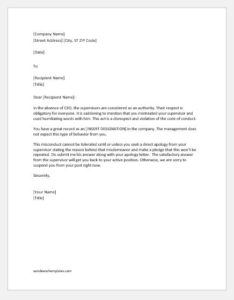 In the absence of CEO, the supervisors are considered as an authority. Their respect is obligatory for everyone. It is saddening to mention that you mistreated your supervisor and used humiliating words with him. This act is a disrespect and violation of the code of conduct.
You have a great record as an [INSERT DESIGNATION] in the company. The management does not expect this type of behavior from you.
This misconduct cannot be tolerated until or unless you seek a direct apology from your supervisor stating the reason behind that misdemeanor and make a pledge that this won't be repeated. Do submit me his answer along with your apology letter.  The satisfactory answer from the supervisor will get you back to your active position. Otherwise, we are sorry to suspend you from your post right now.