People who are employed in an organization will always need a certificate of employment that will be proof that they are employed and have a source of income. It is a basic right of every employee to ask for a certificate of employment when he or she is working for a company providing his/her services.
What is a request letter to HR for a certificate of employment?
It is a specific type of request letter in which an employee makes a formal request to his boss or HR to issue him a certificate of employment.
When to apply for the proof of employee certificate?
There are different ways by which a person can prove that he has been recruited by a company. For example, a person can show a salary receipt or an offer letter to prove it. However, a document that comes directly from the office of the employee is more valuable. This is the reason people are compelled to write a request to their employer.
People can apply for a certificate when they have joined the company. Usually, it is better to apply for the certificate after the probation period has ended and the employee has been considered a permanent employee.
What are the benefits of the certificate of employment?
People reap many benefits when they have stable employment and well-written employment proof that they can prove that they have a stable job. Here are the top 4 reasons to use a certificate of job:
It helps get a personal loan:
When you are applying for a loan, you are often required to prove that you have a stable source of income to return the borrowed money. For this, you will be required to prove that either you run a stable business or you are a permanent employee in a company. If you have a certificate of job, it will help you get approval for the certificate.
It is useful when you want to obtain a visa:
Different countries require you to prove that you are going to return to your country after you have paid a visit to another country. People usually return to their country when they have a stable job in their home country. This certificate proves that they will return to their country.
It helps in opening an account:
To open an account in the bank, a person always needs to give proof of funds that will be transferred to that account to prove that the funds are coming from legitimate sources and that no scams are being perpetrated.
What to include?
Many details can be added to the certificate of job to make it a useful document. In addition, missing out on those details can make it a useless document.
Name and other details of the company
Name and details of the employer
Contact details of the employer
Name of the employee and designation
Name of the department
Duration of the employment with dates
Salary of the employee
It is important to note that the addition of further details to this proof of the job depends on the manager and policies of the company as some companies don't want to share certain types of details with anyone. So, you can add more details or skip any depending on your needs.
You can read the sample letter to get a deeper insight into it.
Sample request letter:
Date:
To:
The manager,
Name of the company,
Subject: Request for certificate of employment
Respected sir,
I, [mention your name] would like to request you to issue me a certificate of employment as I have been working as a sales manager in your company for more than 3 years now.
I want to get this certificate because I have to apply for a personal loan. Please issue me a certificate and also show my designation and duration of work on it so that I can get approval for the personal loan.
I will be highly obliged for this act of kindness and look forward to your kind response. I can be reached at [X].
Regards,
Name of the employee
Designation of the employee
Signatures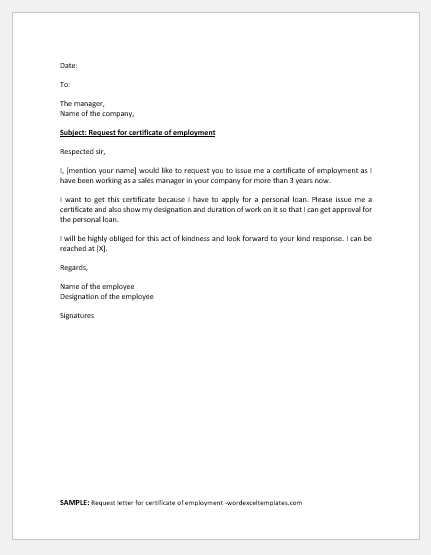 For housing loan
I am XYZ, working as (designation) at ABC Company for 4 years. I would like to request the management to issue my certificate of employment. I need to present the mentioned document to the bank as I have applied for a housing loan.
The bank formalities need to be fulfilled by the 12th of February. I would really appreciate it if you could issue my certificate before the mentioned date.
For travel abroad  
I am writing to request my certificate of employment. I have been serving the company for the last 6 years as the Assistant Manager. I am traveling abroad next month on my annual leave. As part of the visa application formalities, I need to present my employment certificate among other documents.
I shall be really grateful if you could provide me with the mentioned document by the end of this week so that my visa can be processed. I thank you in advance for your cooperation.
For vehicle loan
I have been working as (designation) in the company for the past 2 years. I recently applied for a vehicle loan and need my certificate of employment as per the bank's requirement. I request you to provide me with the same by 20th of March.
I shall be grateful for your kind consideration.
For studying abroad
I am Jane Doe, a former employee at XYZ Company. I served the organization from 2014 to 2020. I left the job to pursue my studies. I am now planning to go abroad for my post-doctorate degree. I respectfully request you provide me with my employment certificate as it is one of the most important documents required for my visa processing.
Kindly issue my employment certificate by the earliest possible time so that there is no delay in the subsequent visa processing. I shall be grateful for your cooperation.
To open a bank account
I am writing as the Assistant Manager, IT department XYZ Company. I wish to open a personal account with ABC Bank. For this purpose, I need my certificate of employment issued by the company to fulfill the bank formalities.
My working records are with HR. Please let me know if you need any further information for the certificate.
Thank you for your consideration.
More Samples