I am writing this letter to request permission to work from home. I, [NAME], have always been a very presentable employee and it has been six years since I am serving this company. Before Covid-19, remote work was not given much consideration however, it is much more familiar nowadays. Research's found that working from home increases 13% productivity than open office work.
I have a family of four and currently dealing with a financial crisis. To save money, I have moved to a low-cost town relative to the main town. It is five hours away from the main town. The prices of everyday essentials have increased significantly. It was a need for me to shift and due to this, I will not be physically present in the office during routine hours. Although I will be virtually available. To catch up with all the physical work I will take on some additional working hours as a virtual employee. 
Besides this, digital technology is the future of business. Working from home also has a lot of benefits for an enterprise. It takes less time, files and folders are compounded into one hard drive and it is easy to use. Consequently, the company can offer high-quality services to its clients.
Keeping in view the aforementioned details, I request to allow me to work from home. It will have no negative impact on my work. However, I believe it will enhance the quality of my job. There will be no negligence in my immediate response to virtual meetings, calls, and emails. Therefore, I humbly ask that you let me prove my worth as a virtual employee.
2- Extended medical leave
I hope that you will be alright. I am working with you for a long period and I was on medical leave nowadays due to an accident that occurred with me six months ago because of land sliding. As a result of it, I got severe injuries and it put a drastic impact on my body due to which I am unable to walk now.
Doctors had prescribed complete rest for me till I am able to walk on my own. Now my medical leave is going to an end and despite taking all precautionary measures, I am still not able to walk on my own and cannot sit for working straight continuous hours.
Due to this accident, my work was badly affected, and I don't want to get it affected anymore. I know that you stand by your employees in every difficult time and hear their problems. I am writing this letter to you to want your favor to allow me to work from home until I become able to walk on my own.
Doctors are still advising me to take rest for three months at least but this time I am not asking for a medical leave. I want you to allow me permission to work from home.
I assure you the work quality would not be affected at all because of illness and I will work with great zeal. I have enclosed my medical report along with this letter so may you have a look at them. I hope that you will approve this request of mine. In case you want to know more about it, I can be reached through email. I would be much obliged to you if you give me collaboration. Thank you.
Regards,
Jackson Luis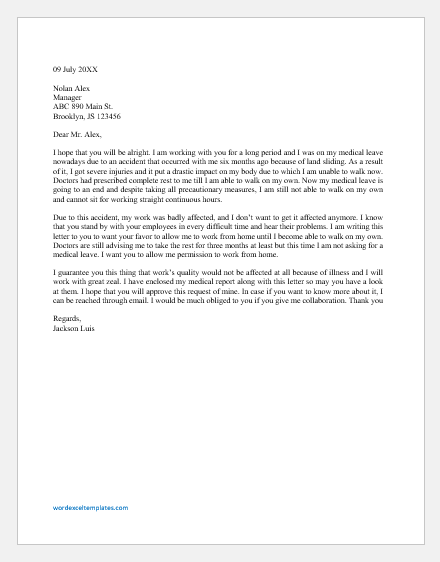 File: Word (.docx) 2007+ and iPad
Size 21 Kb
Download
---
2- Due to disability or continuous bad health
I hope that you will be alright and enjoying good health these days. I have been working here in the company for the last ten years. You know that I have been working from home for the last six months due to my disturbed health. I have a workmate with me who aids me in going somewhere as I am unable to walk on my own. I had asked you to keep him with me in the office, but you told me that I cannot keep any private assistant in the office.
After working from home for the last few months I am giving close attention to office work and activities. This is very difficult for me to come to the office daily so I want to ask you for permission of working from home or in case of need I can just visit the office.
I have really enjoyed working under your supervision and due to your supportive attitude, I want to continue my job here in your company in the future as well.
By keeping in view, the above-mentioned details, I want you to consider this request of mine. I would be much pleased and thankful to you if you favor me by allowing work from home.
Regards,
Oliver Kevin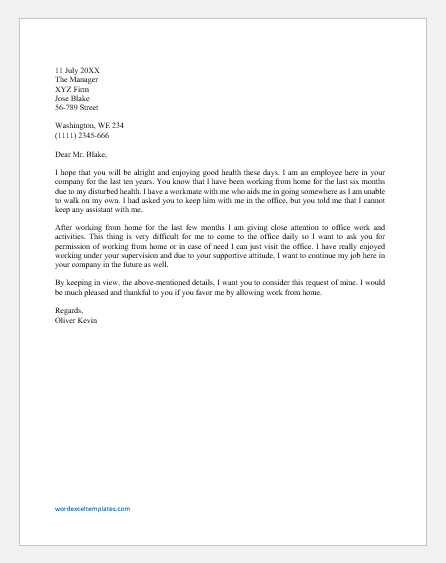 File: Word (.docx) 2007+ and iPad
Size 23 Kb
Download
---