If you are working in an organization and you often travel from one place to another, you have to pay for various expenses such as bus or car fares, fuel charges in case of a personal car, and much more. The company usually pays for these expenses so that the employee can commute easily. However, in case there is an emergency, and the employee has to pay from his pocket, he can write a letter to his boss asking for reimbursement for transportation.
Key points to add:
Include necessary details only:
To write an effective letter, you need to be sure that you have included all those details that are relevant, and you think are important for your boss to know about.
Describe everything briefly:
It is important to remember that a request letter does not have to be too long or detailed. Try to explain everything briefly and concisely.
Mention the amount to be reimbursed:
When you want to be compensated for the money you have paid, it is crucial to describe how much you have paid and the total amount you expect the company to reimburse you. Mention that you are making this claim because it is the policy of the company.
Thank the reader at the end:
At the end of the letter, thank the reader in advance so that you can show some courtesy and gratitude. This will also show that you know how to end professional documents.
Read below the sample letters to learn how to write a reimbursement letter for transportation.
1
I am Mr. Adams, who has been working as a product sales manager in the company for many years. The purpose of this request letter is to ask you to reimburse all the transportation-related expenses that I paid for on behalf of the company.
Since I am a product sales manager, I often have to travel to different cities to sell products of the company. For traveling, I use public transport. Since last month, I have been traveling more frequently than expected and therefore, I had to pay more for transportation than what you have allocated for it.
Last month, I paid 2400 Rs. for bus fares. It is my humble request to you to please reimburse this amount. Enclosed is a complete breakdown of all the transportation charges I have paid on different days. If you need more proof, I can provide you with the tickets also.
It is my humble request to you to please reimburse this amount of 2400 Rs. Thank you so much for your trust and cooperation. I am waiting for a quick response from your side.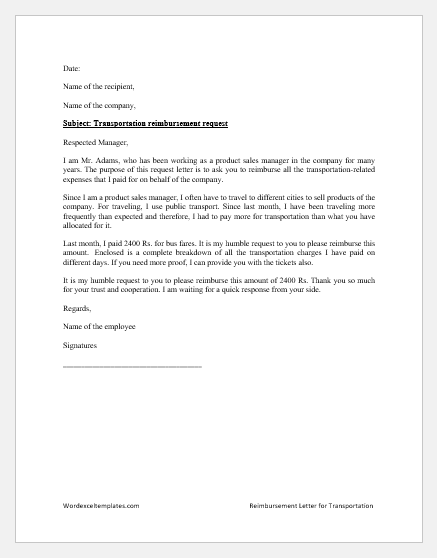 Another sample letter is given below
2
I hope that this finds you in good health. I am Mr. ABC, the manager of the warehouse of the main branch. Please accept my request to reimburse all the transportation-related expenses I have borne on behalf of the company. Last month, there was so little supply of inventory in the warehouse. Due to this, I had to travel to another city to procure more products.
Due to frequent traveling, I ran out of money that was transferred to my account for traveling purposes. Since the company takes some time in issuing the funds, I spent money from my account.
I spent 10000 Rs. in total from my account. Kindly reimburse this amount.
Proof of all the receipts I received at the time of purchasing the ticket has been attached with this letter. To know more about these expenses before you can approve my request, you can contact me or call me to have an in-person conversation with me. I urge you to please approve my request as soon as possible since I need this money urgently. I am waiting for your response. Thank you so much for your anticipation.