Employees in any organization are supposed to work and focus on the work only. They are also allowed to engage themselves in some healthy activities when they find the time. However, they can never be allowed to gossip with each other as it is an immoral activity.
In many companies, employees are told ahead of time to not spend their time talking about useless things. Therefore, when they are found doing this, the company can issue them a warning letter.
An organization can never be approved of an unhealthy activity like unnecessary chatters that leads to reduced productivity of employees. Therefore, when any person is seen doing this, the manager or the employer can choose to admonish him so that he does not repeat this kind of attitude while at the workplace.
Things to remember while writing a letter of reprimand:
You can admonish the employee only when you have already pronounced the policy of the company about gossiping. If not, you cannot reprimand him for something he does not know.
Make sure you use a decent vocabulary of words to express your dissatisfaction and disappointment with the behavior of the employee. However, make sure that you don't use such words that are offensive and show disrespect.
Clearly explain to them that gossiping while they have work to do is a kind of misconduct that a company cannot tolerate. 
Read the sample letter given below:
1:
You are being issued the reprimand letter since you have been involved in gossiping with one of your co-workers. Gossiping is an immoral activity, and we believe that it ruins the environment of the company also.
In our company, every employee is given plenty of work to complete in one day. I don't think there is any free time for employees other than break time to indulge themselves in unnecessary chit-chat. Those who are involved in gossip always fail to show good performance and affect the company as well as their performance. In addition, they distract others and become the cause of disturbance for others.
I have received many complaints regarding this behavior of yours. Due to this, I am compelled to issue the warning to you. The company can never tolerate this behavior as it is against ethics and morality. I hope that this warning letter will be enough for you to realize that you have been behaving unethically. In case you don't improve your attitude towards work, we will be forced to take serious action against you.
Should you want to know anything about this matter, send me an email.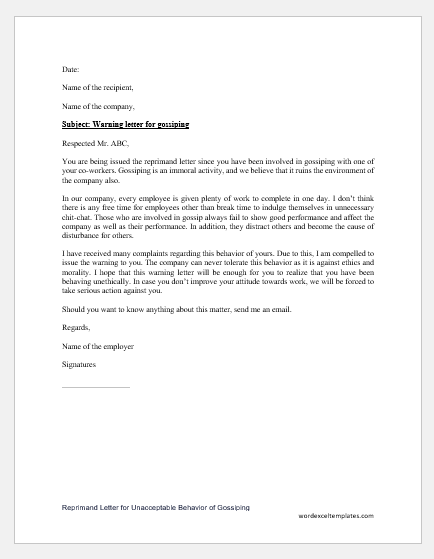 2:
I have received complaints regarding your unethical behavior. You have been involved in gossiping with the canteen administration. Due to this, you are often late to your desk after the break is over. I also learned that you are gossiping at your desk also. This becomes the cause of drawing the attention of others towards you thereby, disturbing them. Gossiping also results in creating and spreading misinformation.
You have been told several times to not be involved in this activity as it is very dangerous for the environment of the workplace. In addition, it reduces the productivity of all the people working around you.
As per the policy of the company, certain rules, and regulations, everyone working here are expected to show compliance. When people violate these rules, they spoil discipline in the workplace. Therefore, taking strict action becomes necessary in some cases. 
You are being informed once again that the company cannot tolerate gossiping on its premises as we are under no obligation to get along with those people who don't respect the healthy boundaries of the workplace. If you are ever seen again gossiping, I will have to take some serious actions against you. I hope to see improvement in your behavior.