An incident report letter is a formal letter in which you write a report about the incident that took place at the workplace and ended up in losing an item. The purpose of this letter is to let the higher authorities know that one or more items are missing from the office. These items can be in the possession of the employee or belonging to the company. In either case, the lost item should be reported.
Why is it important to write a report letter when an item goes missing?
It is very important to report the incident of losing an item because the higher authorities can take necessary action only when they come to know about the details of the incident. Therefore, they often ask the employee to write a report.
Sometimes, the company loses its very expensive items such as laptops or other machines. The report can help them connect the dots and reach the culprit.
Below are some common tips to follow:
Explain the incident:
Explain the whole incident to the reader that how you found that the item from the workplace got lost. Mention the date on which the item was lost and where you last saw the item.
Don't blame anyone:
The purpose of this report is to make it easy for higher authorities to look into the matter and take necessary actions. Don't blame anyone.
Request to take action:
Ask your boss to take necessary actions so that the lost item can be retrieved.
1-
I am writing this letter to register a report regarding my laptop that was lost from the workplace yesterday. I bring my laptop to the workplace as I have lots of office tasks that I perform from my laptop.
Yesterday, when I went outside for a meeting, my laptop went missing. When I came back, it was not there on my desk. I searched for it and asked other co-workers to help me find it. However, all efforts went up in smoke.
I have been so worried ever since I lost my laptop. My laptop is very expensive as I imported it from America. There is personal data in it including my family pictures that are making me more concerned. I never thought of losing my laptop. It is a humble request to you to please conduct a probe and see what the underlying reasons for this incident are. If you take strict actions this time, you will successfully avoid such things from happening again in the future.
I hope that I will get my laptop back. Therefore, I am looking forward to your response. Thank you so much for your anticipation.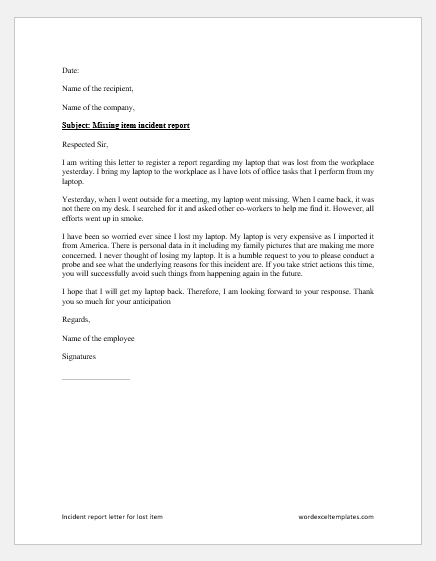 2-
This is an incident report that I am compelled to write because I found that a few files from my office are missing. These files were very important as all the records of the inventory of the company were recorded in those files. Just like other office belongings, I put my files on my office shelf.
However, when I tried to check one of those files today, I was surprised to learn that a few files are not there. I asked a few people who frequently visit the office about the files but they don't know anything. The last time when I saw those files was 15th June 2030.
I am really worried about having those files lost as it is not easy to create all the records again. I don't blame anyone but I want you to conduct an investigation and check CCTV footage so that it can be seen whether they have gone missing or someone has stolen them. In my view, these files are not useful for anyone in the company except me. I hope that you will take the necessary actions.