Error in payroll is a very common problem that can be resolved easily if proper steps are taken and a close review of the payment record of the employee is given. It is important for an employee to write a letter to the employer to inform him about the error in the payroll.
The employer may refer you to the head of human resources department or any other staff member who is responsible for processing all the tasks related to payroll.
It is important for you to request the employer for reviewing your documents and attesting the number of hours you have worked if your personal record is different in the company's record and your own records.
Before you write this letter, try to review everything you want to discuss with the employer. If you think that you have not been paid fairly, you can submit several types of documents with the letter that can support your claim.
You can also attach the copy of a written job offer in which the employer offered you a salary with the promise to increase it.
You can also ask your employer to arrange a personal meeting with you in which you will be able to discuss your matter with him. It should be ensured that you discuss your problem with your supervisor in a calm manner. Keep your tone rational and polite no matter how much you are angry.
Sample letter -1:
Dear Sir,
I am writing this letter to make a complaint to you about the error in payroll. The salary that has been mentioned in the payroll is less than my actual salary we agreed. You promised me to increase my salary this month.
However, my salary is still the same. I have received the increment in salary previous month but this month, I have again received less salary. I am attaching previous month salary slip with this letter that will let you know well about my condition. I hope that you will resolve my issue as soon as possible
Yours Sincerely
Regards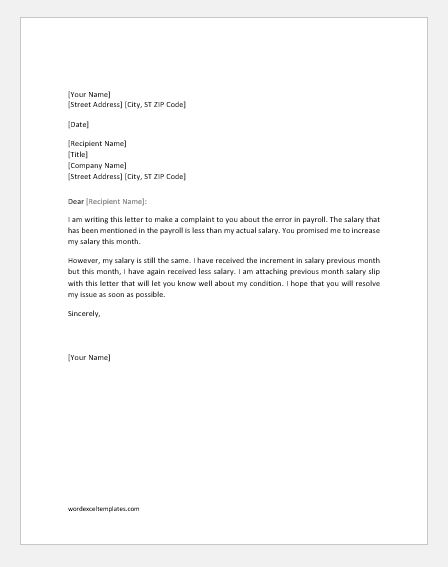 Sample Letter
File Size: 31 KB | Download
---
Sample letter -2
I am writing this letter to inform you that for the month of March I received my net salary $2500. I received my salary as per the date set by the company i.e. April 5th.
In our last meeting about salary increment, it was decided that my salary is increased by 25% plus the two-annual salary bonus will be three salaries now. As per this change, I must be paid $3125. It may be a clerical mistake, or the HR department has not been updated about the change.
To my worry, I still get the same salary as it was before the appraisal. I want you to please consider this matter as serious and resolve it as soon as possible.
Yours Sincerely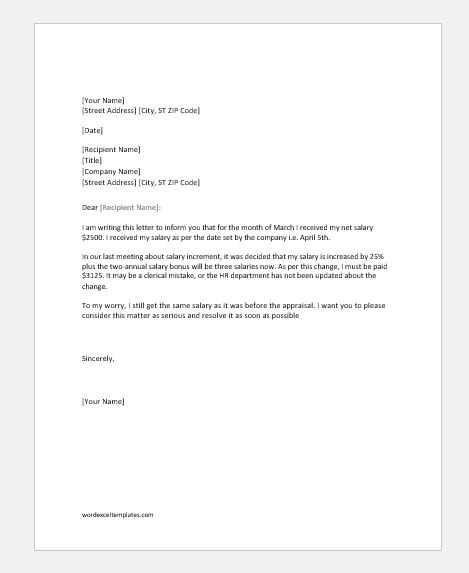 Sample Letter Template
File Size: 31 KB | Download