What is affidavit form?
An affidavit form is a document that is used to write the facts that get the legal value when signed by both parties involved in a contract. In other words, it is used to record the oath. In some cases, the affidavit form is used as evidence.
When to use the motor vehicle sale affidavit?
Motor vehicle sale affidavit is used when the vehicle is sold to someone and the seller of the vehicle transfers the ownership to the buyer after taking the money from him. During the motor vehicle sale, the seller takes the oath that he has received the payment from the buyer.
Sometimes, the payment is decided to be paid in installments. In such situation, the buyer takes the oath that he will pay the installments on time.
An affidavit is filed by any of the two parties in the court through the affidavit form. Filing the affidavit in the court means that now your case will be handled by the court.
So it is very important, to be honest in an affidavit. Because anything written in the affidavit becomes the legal statement and then not being true makes the person violate the law.
How is vehicle sale affidavit formalized?
The affidavit form is filled in the presence of a notary by the seller and the buyer of the vehicle. The notary is authorized to verify your signatures and the details are given in the affidavit.
The sale affidavit form is a legal document. It is only considered valid if it is signed, witnessed and notarized clearly.
This form contains the information that should be provided in such a way that it can meet the legal requirements of the state. Using this form is useful because it is the best tool to ensure that the information provided in the form is correct.
The template for motor sale affidavit form has been prepared for the ease and comfort for the user. It can be the best document to be used for the legal purpose. It also allows the user to customise it as required.
Preview and Details of Template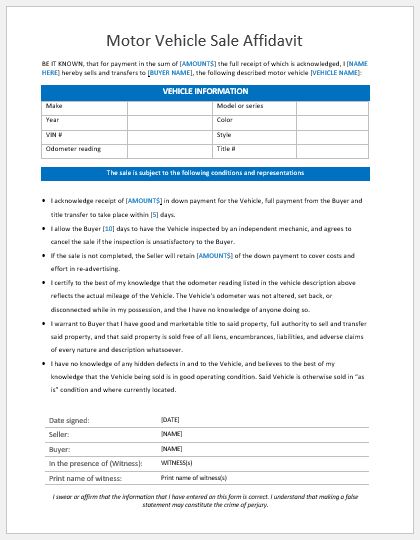 Motor Vehicle Sale Affidavit Template
File: Word (.doc) 2003+ and iPad 
Size 539 Kb | Download
[Personal Use Only]