Missing an appointment is a nightmare. In today's busy world, these are appointments that rule the world. Those people who don't want to waste their time use appointments to make appropriate use of their time. Meeting people or planning anything else requires busy people to plan out their time properly. In order to meet such people, you have to take an appointment.
What is missed appointment follow-up letter?
A missed appointment follow-up letter is written to the particular person who you could not meet for any reason. This letter is written to explain why you could not show up at a specific time.
While writing the follow-up letter, the perspective of the recipient should be kept in mind. You should also consider the inconvenience that you have caused the other party whom you intended to meet. It should be ensured that you have written the missed appointment follow-up letter in a professional way.
The follow-up letter also reminds the other party about the appointment that you missed. If you have already paid the fee for the meeting you took an appointment for, you can save it by writing a follow-up letter. The follow-up letter puts you in front of the person you are writing to.
In order to meet the professionals, the clients are required to take an appointment. You can ask the professional to set another appointment with you with the same fee as your reason for missing the appointment was justified.
A template for a missed appointment follow-up letter can be downloaded if you don't know how to write this letter. The template contains a professionally written letter that you can send to the professional without being worried about the format or language.
The template is available in the format of MS word. You can easily download it and use it whenever you want. The best thing about this tool is that you can access it online.
Sample Letters
From Employee for some unpleasant incident/accident
I am sorry for missing the appointment I had with you last Friday. I was fully prepared for it but suddenly I received a call from my husband where someone else was informing me of his terrific accident. I lost my senses at that very moment & had no idea of doing things correctly.
My mind was weaving plenty of fearful things about his life. The injuries were not as severe as I was told on the phone call. Though he is still on bed rest he is making a prompt improvement. This was the reason behind all the mismanagement otherwise everybody in the firm knows about my demeanor & professionalism.
I request you to kindly free a slot to reschedule the meeting to continue with our projects & ends.
Thank you!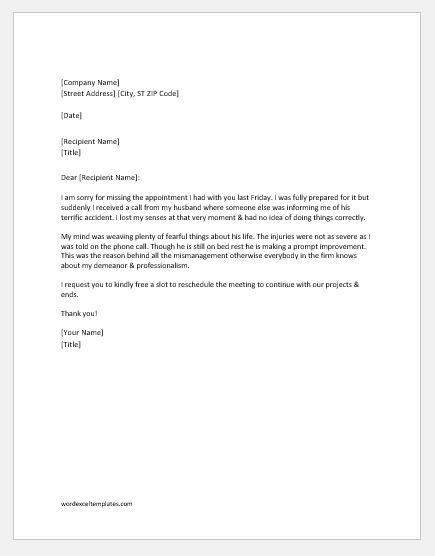 From a doctor's office to a patient
This letter is to remind you that you had an appointment with the doctor [name of the doctor] yesterday Monday at 11:00 am. It is very sad that you didn't show up for the checkup nor dropped a letter or message anywhere. You must know the importance of an appointment; we do not give that slot to any other patient no matter what because of our commitment.
This letter is to ask you that if you want to renew the appointment, do contact us at the given number & email address. On renewing the appointment, we will be charging $10 as compensation for the missed appointment. We are waiting for your reply to book the available slot.
Thank you!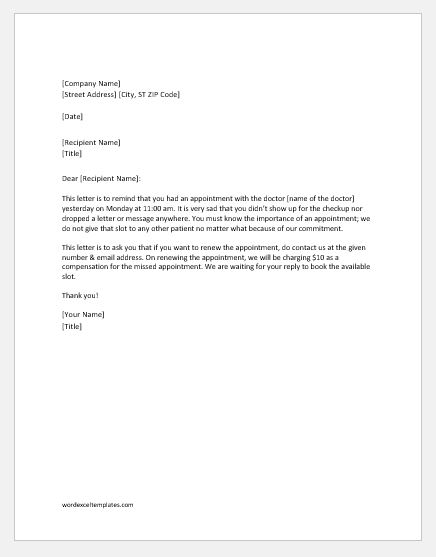 Sample letters…