The workplace has several rules and regulations. These regulations are applicable to both the employees and employers. The management of the company is obliged to create a friendly and cooperative environment. But, the cooperation is needed from both ends. If the management is giving its excellence, the employees should also put their best possible efforts regarding their performance. Above all, the higher authorities need to be very polite and kind in their behavior.
Sometimes, the bosses are very troublesome. They always try to create an appalling and creepy environment despite the employee's satisfactory performance. They create conflicts without any general reason. This leads to dissatisfaction level at its peak. As a result, employees send a resignation letter.
The resignation letter due to conflict with the boss can be written in any of the following cases:
When the boss continues to insult or humiliates the employees on sudden natural technical defects that are not in control of the employees or staff.
When projects, tasks, and assignments are being affected by the opposing opinion of the boss.
When the boss creates too many differences regarding the point of view of an employee on the achievement of goals.
Thus, all these conflicts lead to working disability of the employee. The resignations letter is formal and concise. It clearly states the conflicts of opinion. The letter also includes the name, position, and dates. The letter also contains the detail of the duties of the respective employee that will be transferred after resignation.
A template is given here.
Sample Letter
It is to inform you that I am not willing to continue with the job anymore. This letter should be considered as my resignation letter. This very Friday on [date] would be my last working day at the [Business].
You must have known the reason behind the culmination of this decision. We were having differences since long and those were getting worse with every passing day. Even after having tried my best these issues never settled down. Now, this never-ending situation is taking on my nerves and affecting my outcome in the possibly worst way.
I cannot continue working like this. So, I considered it a better decision to find myself another job where I can work peacefully. Kindly make the transaction of my salary for this month so that I can collect my official departure documents without wasting much time.
Thank you for letting me avail the opportunity of working with you.
Faithfully,
Preview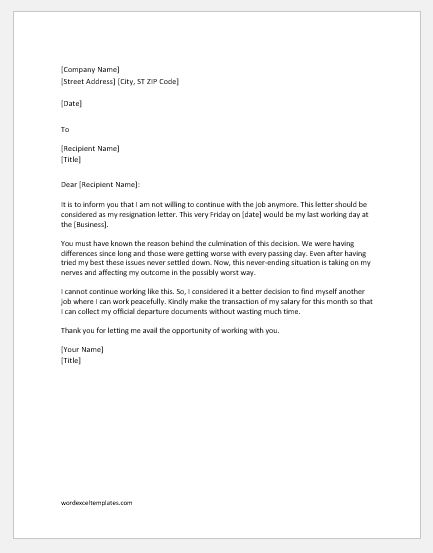 The letter sample
Format: MS Word [.docx]
Options: Download