Meetings are conducted for special purposes and there is a specific time allocated for meetings. Everyone must attend the meeting at the provided time. Furthermore, those who convene the meeting are also required to set up everyone at the scheduled time.
Some particular uncertain situations necessitate for a company to reschedule the meeting. When a meeting is rescheduled, those who are supposed to attend it should know about it. For this purpose, many companies write meeting rescheduled letters to potential attendees of the meeting.
When to write the meeting reschedule letter?
If you are the one who has to preside over the meeting, your availability is a must. However, sometimes an unprecedented situation compels you to reschedule the meeting. Here are some situations in which you can write the meeting reschedule letter:
You can reschedule the meeting when your health is not good and you think that you should schedule the meeting on the day when you are fit as a fiddle.
If there is heavy traffic and you know that you would not be able to make it to the meeting at the scheduled time, you can write a letter to reschedule it.
When you got another matter to resolve on an urgent basis which is more important than the meeting, let everyone know about the rescheduling of the meeting by writing this letter.
When you could not prepare the meeting points that you need to discuss in the meeting and you don't want to attend an improvised meeting, you should write this letter.
Few important points before you draft the letter
Start with the greeting:
Just like any other formal letter, this letter should also be started with a greeting. In this section, you can also talk about the scheduled meeting and its timings. This will enable the recipient to know which meeting you are talking about.
Talk about rescheduling:
Since you are writing this letter to tell everyone about the rescheduling, tell the attendees that you are rescheduling the meeting at the new time. It is not mandatory for you to provide reasons for rescheduling. However, you can provide reasons if you find it convenient.
Tell new timings:
When you reschedule the meeting, you shift the meeting to the new time. Tell the recipient about the new timing in clear words. Also, mention the date for clearing even if the meeting is to be convened on the same day.
Conclude the letter:
Your decision to reschedule the meeting might not be convenient for many people. Considering this fact, you should apologize to everyone for causing them inconvenience. Many people also conclude their letter with a thanks statement that is used to appreciate everyone who is going to take part in the rescheduled meeting. Also, tell them that you are expecting the attendees to participate in the meeting on the rescheduled dates and times.
Signatures:
Affix your signatures at the end along with your name and date.
Sample Letters
1-
Subject: Rescheduling of the meeting held at [X]
Dear participants,
I am Michelle Johnson, working as a liaison officer at Julia pharmaceuticals. On my company's behalf, I have been directed to inform you that the annual meeting which was scheduled to be held on [X] of July, 20XX has now been canceled and rescheduled. The company has never anticipated such a problem but the reason for annulling the meeting is that Mr. Johnson, the founder of this company has passed away due to a sudden heart attack last night.
His demise news was confirmed by his wife this morning. The company is well aware of the inconvenience which may have been caused by the sudden cessation of the meeting because arrangements have been made on a very big scale and most of the important agendas along with working strategies were supposed to be discussed at this important event. But all of you must understand that the decision was changed due to unavoidable circumstances beyond the control of humans.
On my company's behalf, I have also been directed to inform you about the new meeting date, which is scheduled as X of August, 20XX. Please reply with an acknowledgment email to make sure that message has been delivered and you agreed. Prior to starting the meeting, the mourning ceremony will also be held in the company's head office in order to pray for the departed soul.
We once again apologize for the inconvenience caused by the cancellation of the meeting due to unanticipated reasons.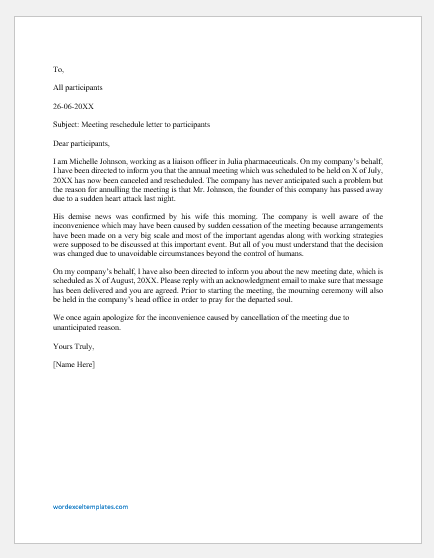 File: Word (.docx) 2007+ and iPad
Size 20 KB
2-
Subject: Reschedule of [X] meeting due to [XYZ]
Dear participants,
Hello everyone! I hope you all will be doing very well. I am Robert Johnson, the senior vice president of Jubilee Insurance Pvt. Ltd. Through this letter, I am to inform you that our business meeting which was scheduled to be held on X of July, 20XX at our company's head office, has now been rescheduled due to inescapable circumstances.
I have been informed by my office secretary that I am to participate in a business conference in Germany on behalf of the company. Due to this reason, I will not be available here to preside over the meeting and that is the reason I had to reschedule the meeting. I know how zealous you all were regarding this meeting keeping in view its agenda. All the arrangements were done to make this meeting fruitful, but I have no choice but to attend the conference on a priority basis.
This is my appeal to all of you to send me back an acknowledgment email in response to this letter. I will be calling you back after I return from Germany and then we will decide on a new date for this particular meeting. Sorry for any inconvenience which may have been caused to you.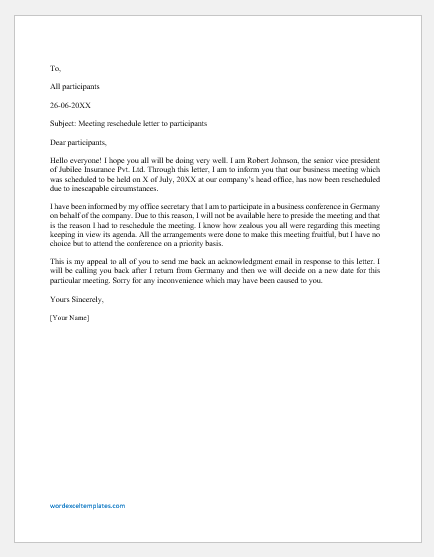 File: Word (.docx) 2007+ and iPad
Size 23 KB