A scholarship is availed by those students who are able but not financially stable. In order to pursue their dreams, different institutes offer scholarships to their students. In case a student is eligible to avail the scholarship, he can write a letter to school requesting considerations for a scholarship.
A scholarship is a financial reward which is awarded to students on the basis of their academic performance. The scholarship is not awarded on the basis of the financial statements of the student. When a student wants to apply for the scholarship, he has to prove his abilities by taking an exam or test.
Scholarships these days have become very common. Most of the institutes offer scholarships to their students. However, if you are studying in such an institute where the scholarship is not awarded, you can simply write the letter to the management of the school and ask it to consider you for the scholarship.
This is a formal letter which is usually written to the principal of the school. The student should include all the details in the letter that will be needed by the authorities in case it decides to consider the applicant for the scholarship. This letter can also be written by the parents of the child.
If you want your child to be considered for a financial aid, you should describe your financial circumstances in the letter.
The principal should be able to know how hard it is for you to bear the expenses of the child's education. You may attach your salary slip or income details with the letter to let the reader know about your monthly expenses.
If you are applying for the scholarship based on academic performance, write the academic achievements of the child. Attach the mark sheets and result card of the child to let the principal know how competent your child is.
There is also a template for the letter requesting for consideration that will save you from having to write a letter from scratch. All you have to do is download the template and use it.
Sample Letters
#1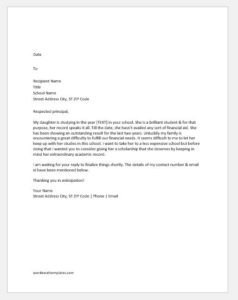 My daughter is studying in the year [TEXT] in your school. She is a brilliant student & for that purpose, her record speaks it all. Till the date, she hasn't availed any sort of financial aid. She has been showing an outstanding result for the last two years. Unluckily my family is encountering a great difficulty to fulfill our financial needs. It seems difficult to me to let her keep up with her studies in this school. I want to take her to a less expensive school but before doing that I wanted you to consider giving her a scholarship that she deserves by keeping in mind her extraordinary academic record.
I am waiting for your reply to finalize things shortly. The details of my contact number & email id have been mentioned below.
Thanking you in anticipation!
#2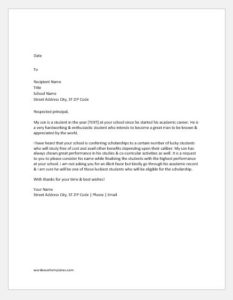 My son is a student in the year [TEXT] at your school since he started his academic career. He is a very hardworking & enthusiastic student who intends to become a great man to be known & appreciated by the world.
I have heard that your school is conferring scholarships to a certain number of lucky students who will study free of cost and avail other benefits depending upon their caliber. My son has always shown great performance in his studies & co-curricular activities as well. It is a request to you to please consider his name while finalizing the students with the highest performance at your school. I am not asking you for an illicit favor but kindly go through his academic record & I am sure he will be one of those luckiest students who will be eligible for the scholarship.
With thanks for your time & best wishes!