Making mistakes is ok. No one in this world is perfect. But, when you hurt someone's feelings especially your teacher, you should apology for your behavior. It takes a lot of courage to apologize for what you have done. However, it will strengthen your relationship with people and promote positive feelings for each other.
A teacher is one of the most respected personalities in everybody's life. Your teacher deserves to be treated with value and respect.
Sometimes, when you don't behave appropriately due to any reason, it offends your teacher. An offending student can never be successful in his life. You should apology for your bad behavior regardless of the relation.
An apology letter is written when you are feeling sorry for what you have done and want your teacher to forgive you. It is a formal letter and should be written accordingly. Although you can meet your teacher in person and ask for forgiveness, writing apology letter puts a positive impression. It depicts your true feelings and makes the reader feel valuable. In the end, it is a formal way of apologizing and is a part of a record keeping.
The apology letter should be written concisely. Tell your teacher in clear words that you are very sorry for what you did. You should always admit your mistake while apologizing. Avoid giving excuses no matter how solid excuses you have.
No one likes excuses when anyone has hurt them because no reason can justify hurting anyone. Also, tell your teacher that you are not going to behave like that again.
At the end of the letter, recognize all the efforts of the teacher that she has put in giving you the best education. You should show your gratitude to her because you are able to read and write because of her.
The format of the letter written to your teacher is like other apology letters. You should add date, your school's name, your name, registration number, class and section name, the subject of the letter and a lot more. Make sure that your identity is clear to your teacher. If there is an incident for which you are apologizing, mention that in the letter.
Apologizing for not doing homework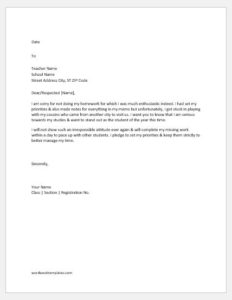 I am sorry for not doing my homework for which I was much enthusiastic indeed. I had set my priorities & also made notes for everything in my memo but unfortunately, I got stuck in playing with my cousins who came from another city to visit us. I want you to know that I am serious towards my studies & want to stand out as the student of the year this time.
I will not show such an irresponsible attitude ever again & will complete my missing work within a day to pace up with other students. I pledge to set my priorities & keep them strictly to better manage my time.
---
Apologizing for misbehavior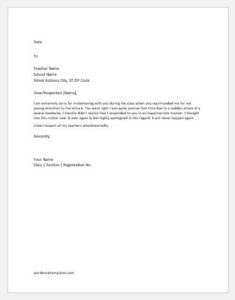 I am extremely sorry for misbehaving with you during the class when you reprimanded me for not paying attention to the lecture. You were right I was quite passive that time due to a sudden attack of a severe headache. I literally didn't realize that I responded to you in an inappropriate manner. I thought into this matter over & over again & feel highly apologized in this regard. It will never happen again since I respect all my teachers wholeheartedly.
---
Apologizing for absence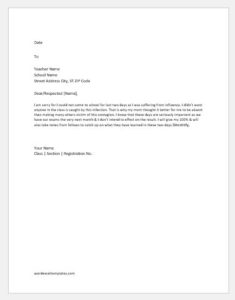 I am sorry for I could not come to school for last two days as I was suffering from influenza. I didn't want anyone in the class is caught by this infection. That is why my mom thought it better for me to be absent than making many others victim of this contagion. I know that these days are seriously important as we have our exams the very next month & I don't intend to effect on the result. I will give my 100% & will also take notes from fellows to catch up on what they have learned in these two days.
---
Apologizing for cheating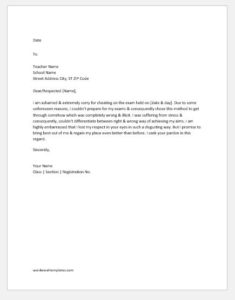 I am ashamed & extremely sorry for cheating on the exam held on [date & day]. Due to some unforeseen reasons, I couldn't prepare for my exams & consequently chose this method to get through somehow which was completely wrong & illicit. I was suffering from stress & consequently, couldn't differentiate between right & wrong way of achieving my aims. I am highly embarrassed that I lost my respect in your eyes in such a disgusting way. But I promise to bring best out of me & regain my place even better than before. I seek your pardon in this regard.