If you rent a shop, the situation may arise where the landlord has suddenly increased the rent, or you are finding it tough to pay the rent. Business might not be going well for some months.
Therefore, you may be finding the rent tough to pay. Shops in the area may have less rent than yours. You may, therefore, want to request the landlord to reduce the rent of the shop.
For this, a letter may be useful stating why you wish the landlord to reduce the rent. In the letter, you can explain the reasons. You will be requesting the landlord to consider your request.
Do you feel that you can get a better deal? Getting a rent reduction is not something that is impossible. Nevertheless, you need to go the right way to increase and not reduce your chances of getting a rent reduction.
Tips on writing the letter
This letter can be typed into Microsoft Word. It will look more professional if you type this letter instead of writing it by hand.
Type the date in the top left-hand corner.
After a few spaces type the name and address of your landlord.
Then leave a few spaces and address the letter to your landlord.
Start by stating why you are writing the letter. You can briefly state when you started renting the shop, and if other shops have less rent, you can state this as well.
Research into shops in the area and if you find that their rent is less you can explain this in detail in the next paragraph. State that you wish your lease to at least match this.
In the next paragraph, you can explain how you have paid the rent on time for how many years you have been there. You can also say how you like the place and wish to remain there for the long-term.
You can end by having a line stating that you will wait to hear from the landlord.
End by signing off with "Yours sincerely" or something similar to this. Type your name and sign with your signature.
To initiate the negotiation process, you can start by writing a letter. Address your problem in a positive tone.
See the sample letters below
Letter
Hi Austin,
Hope the business is going well.
I have been working hard to make the shop run at its highest profits. Since winter season has kicked in, the sales have really gone down. I have been trying all types of tactics to attract customers but all in vain.
I have been using your shop ever since I started my own business. I made good profits in the last few months and always paid my rent on time. But I am facing some serious cash flow issues this year. So, I would request you to reduce my rent. I know this might be hard for you too but considering my losses, it would be a great help from your side.
Please let me know how you think about this.
With Thanks
Lewis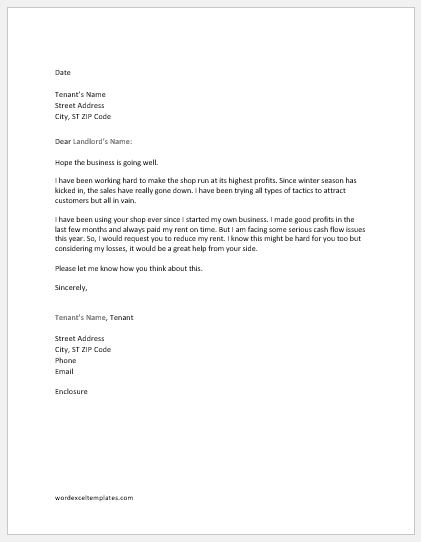 Letter Template
File: Word (.doc) 2003+ and iPad 
Size 27 Kb | Download
[Personal Use Only]